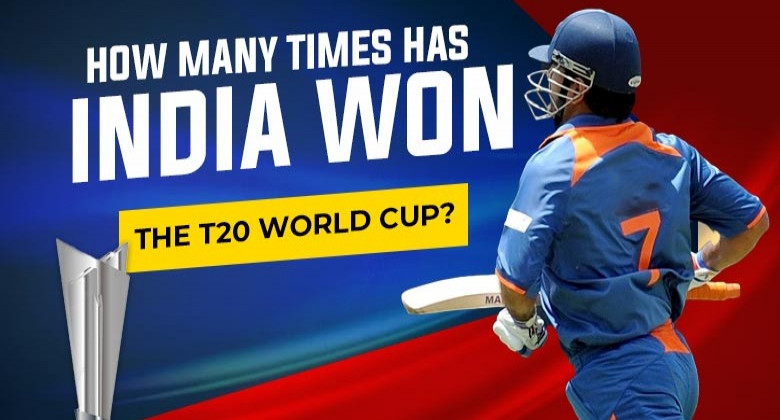 How Many Times Has India Won the T20 World Cup? Find Out.
What comes to your mind when you think of a moment that significantly changed the face of Indian cricket? And how many times India won the world cup? The unexpected 1983 World Cup win, under Kapil Dev's captaincy, will always get pride of place. But 15 years on, it's possible to view the victory of the India cricket team at the 2007 T20 World Cup in almost the same light. India beat Pakistan in the final by 5 runs to win the very first World T20 trophy in 2007.
Almost overnight, the Indian cricket public fell in love with the shortest format, and less than a year later, the Indian T20 League had been launched. But as we look forward to the T20 World Cup 2022, to be held in Australia in October-November, it will irk Indian fans and fantasy cricket lovers that the success in the inaugural tournament remains India's only one.
How Many Times Has India Won The World Cup?
Team India has won the T20 World Cup only one time in 2007. Indian cricket team beat Pakistan in the final by 5 runs to win the very first World T20 trophy in 2007. India have won total three World Cups so far in 1983, 2007, and 2011. They are two-time ODI Cricket World Cup champions, winning in 1983 and 2011.
| | | | | |
| --- | --- | --- | --- | --- |
| World Cup Year | Hosts | Format | Opponents in Final | Match Result |
| 1983 | England | ODI (60 overs) | West Indies | Win by 43 runs |
| 2007 | South Africa | T20 (20 overs) | Pakistan | Win by 5 runs |
| 2011 | India/Sri Lanka/Bangladesh | ODI (50 overs) | Sri Lanka | Win by 6 wickets |

How Many Times Has India Nearly Won The World Cup: Runner-up
India have two runner-up titles in World Cups so far. They finished second in the 2003 ODI Cricket World Cup losing to Australia. India also lost one T20 World Cup final, to Sri Lanka in 2014.
| | | | | |
| --- | --- | --- | --- | --- |
| World Cup Year | Hosts | Format | Opponents in Final | Match Result |
| 2003 | South Africa | ODI (50 overs) | Australia | Lost by 125 runs |
| 2014 | Bangladesh | T20 (20 overs) | Sri Lanka | Lost by 6 wickets |
How many times India won the T20 world cup? How has been India's performance in the global T20 tournament over the years? Here we look at Team India's history in the T20 World Cup.
2007 World Twenty20
(Hosts: South Africa | Winners: India)
A dramatic bowl-out win over Pakistan cricket team in the first stage set the tone, but after a defeat to New Zealand in the Super 8s, India had it all to do to make the final 4. But Yuvraj Singh's 6 sixes helped smash England, and hosts South Africa, unbeaten until then, were well beaten to seal a semi-final spot.
There, Yuvraj's dashing 30-ball 70 helped beat mighty Australia. There were multiple heroes in an epic final win over Pakistan, which saw MS Dhoni trust the unknown Joginder Sharma with the final over against Misbah-ul-Haq.
World Twenty20 2009
(Hosts: England | Winners: Sri Lanka)
This was an awful title defense for Team India. Amid rumors of a rift within the team, India lost all 3 Super 8s games to crash out after having breezed through the first stage. India lost to West Indies, England and South Africa by 7 wickets, 3 runs and 12 runs respectively.
2010 World Twenty20
(Hosts: West Indies | Winners: England)
A tournament that began with Suresh Raina's dazzling century against the South Africa cricket team ended with a whimper as India again failed to win a single game in the Super 8s. India lost to Australia, West Indies, and Sri Lanka by 49 runs, 14 runs and 5 wickets respectively.
World Twenty20 2012
(Hosts: Sri Lanka | Winners: West Indies)
It's not often that a team wins 4 out of 5 matches and still fails to make it to the semi-finals. But that was India's fate in 2012. Perfect in the initial group, they were undone by the toss and a wet ball in the Super 8s game against Australia. Victories over Pakistan and South Africa weren't enough to push their net run rate high enough to qualify for the final 4.
2014 World Twenty20
(Hosts: Bangladesh | Winners: Sri Lanka)
All the stars seemed aligned for another Indian triumph. Untroubled during the league phase, they breezed into the semi-final and saw off South Africa, with V. Kohli in prime form.
Kohli was again to the fore in the final, scoring another glorious half century to set Sri Lanka a challenging target. Unfortunately for him and the team, the rest of the India batting didn't quite click, and the vast experience of Kumar Sangakkara saw Sri Lanka home. It was some measure of revenge for the loss to India in the 2011 (50-over) World Cup final.
World Twenty20 2016
(Hosts: India | Winners: West Indies)
Once again, a loss to New Zealand pushed India to the brink of an exit. But thanks to Kohli's brilliance, India rebounded strongly. His match-winning knock against Australia remains one of the best ones ever played in the format.
Virat delivered another epic performance in the semi-final to set West Indies a big target at the Wankhede Stadium. India struck early, but a combination of ill-disciplined bowling, poor catching and the big hitting of Lendl Simmons and Andre Russell sent the hosts tumbling out. Kohli was adjudged the Player of the Tournament again, as he was in 2014, but yet again, India were denied the ultimate prize.
2021 Men's T20 World Cup
(Hosts: UAE/Oman | Winners: Australia)
Losses to Pakistan – India's first to their great rivals in a World Cup – and New Zealand effectively ended India's campaign in the early stages. A team that looked listless and tired, after a long Indian T20 League season, finished with 3 straight wins, but couldn't make the semi-final. It also turned out to be the last assignment for the captain-coach combination of Kohli and Ravi Shastri.
FAQ's

What's Next For Team India?
The upcoming cricket match T20 series against the West Indies will give India a better idea of where they stand as they bid to end the T20 title drought. New faces have come into the squad and a new style of aggressive batting is being persisted with. Time will tell whether this group can emulate the achievements of Yuvraj, Dhoni and the other heroes of 2007.
Who won the first Cricket World Cup?
The mighty West Indies were the first world champions. They beat Australia by 17 runs in the final of the 1975 Cricket World Cup at the Lord's Cricket Ground, England.
How many times has Pakistan won the World Cup?
Pakistan are the two time World Cup winners. They won the Cricket World Cup in 1992 under the leadership of Imran Khan. They also lifted the World T20 trophy in 2009 under Younis Khan.
Which team has never won the World Cup?
New Zealand and South Africa are the two major cricket nations to have never won the World Cup. New Zealand finished runner-up in the 2015 and 2019 ODI World Cup. They were also runner-up to Australia in the 2021 T20 World Cup.
As you wait for the T20 World Cup 2022 to start, why not download the Howzat fantasy app and test your knowledge and understanding of the game against the best fantasy players in the country? Get started on your fantasy journey today!