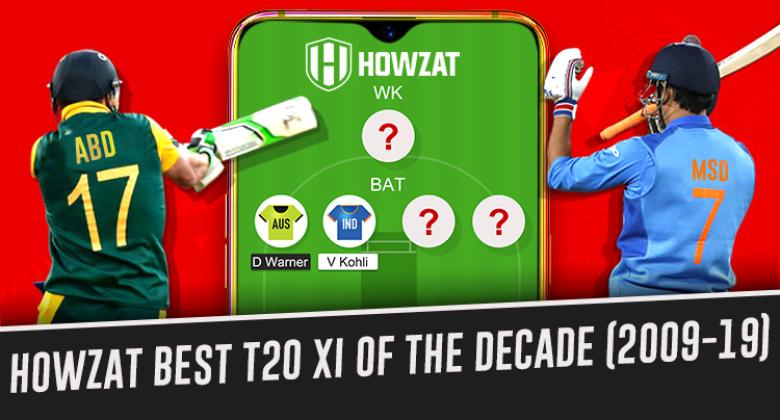 Howzat BEST T20I Team of the Decade 2009-19
Selecting the Best XI in a league involves a certain degree of favoritism and preferring a particular kind of playing style. But when it comes to the Best T20I team, consistency and reliability become two of the most important factors in a game that is highly unpredictable. Keeping this in mind, we got down to choose the Best T20I XI team of the decade 2009-19.
In the last decade, Eight Hundred and Ninety Seven T20Is were played, in which there were 249,578 runs scored and 11,293 wickets taken. Having filtered down those matches and numbers, an XI was impossible to choose, so we gave India an opportunity to choose their XI that comprised of 2 Openers, 2 Middle Order Batsmen, 1 Wicket Keeper, 2 All-Rounders, 2 Pacers, and 2 Spinners.
Presenting the Howzat T20I Team of the Decade:
Openers:
1. D Warner
When asked between Gayle & Warner, 56% of people picked Warner who might come in as a surprise inclusion in this list. Despite being one of the most consistent & prolific openers in the world, Warner has yet to be so openly recognized for his T20 record.
A dominant batting force of the decade, the left-handed Australian has a terrific record when it comes to T20 and has even led the Sunrisers Hyderabad to victory in the 2016 IPL. David Warner has scored 2079 runs in 76 matches at a strike rate of 140 in the international format. The level of confidence in his batting makes him stand apart as the first opener of the T20 XI of the decade.
2. R. Sharma
At the top of the order, we have a standout performer 'The Hitman'. One of the most effective players of this decade, R. Sharma has been instrumental in India's cricketing success. With his exhilarating performances in both domestic & Int'l T20 circuits, Sharma has set an example of batting masterclass in every side that he has played for.
Scoring 2392 runs in 90 T20I games this decade at a strike rate of 140.92, He holds the joint record to smash the fastest century in the T20I format off just 35 deliveries. Rohit Sharma is the apotheosis of a T20 opener and is one of the finest batsmen in the game. His prolific record in the T20 format and excellent control over the game makes him the perfect opener of the T20I XI of the decade.
Middle Order
3. V Kohli
The current Indian skipper, Kohli is a player who has performed brilliantly in all three formats of the game. One of the greatest chasers in the shorter format of the game, he has been an inspiration for a lot of upcoming batsmen. One simply cannot make the Best T20I team of the decade 2009-19 without including Kohli.
With his shot selection, his batting style, and his temperament, V. Kohli has been a true masterclass throughout his career. He has scored 2633 runs in just 75 matches at a strike rate of 138 and is the only batsman in the world with an average of more than 50 in the T20 format. His skillful approach to chasing big scores and aggressive-yet-composed batting style make him the key batsman of the squad. Kohli would be a great fantasy cricket team pick.
4. ABD
The Proteas batsman is known for his unique and aggressive batting style clubbed with the clever non-cricketing shots he plays. He's truly Mr.360 in his approach toward the game and in the way he approaches a bowling attack. To have ABD in any team is nothing less than a blessing for the captain. One of the finest middle-order batsmen this world has ever seen, ABD is stunning on the field.
His sudden decision to exit International cricket came as a surprise to everyone and disappointed fans all around the globe. In his T20I career, AB de Villiers scored 1672 runs in the 78 matches he played, at a strike rate of 135.2. An exceptional fielder and a ravishing batsman, ABD knows his game inside out and can be a delight to watch every time he is present on the field.
Wicket Keeper/Captain
5. M Dhoni
The stalwart of the Indian cricket team, Dhoni has ruled the hearts of cricket fans for more than a decade. He has become synonymous with India's triumph by dominating the limited-over format.
One of the finest middle-order batsmen, Dhoni can handle the pressure like no one else. He has led the cricketing generation by example. The World Cup-winning captain comes down the order to bat and has managed to score 1261 runs in 78 matches at a strike rate of 133. His various achievements as a captain and wicketkeeper-batsman make him the ideal man to lead the Howzat Best T20I team of the decade 2009-19.
All Rounders
6. A Russell
Russell is the ideal vision of a T20 all-rounder, capable of turning a game just as quickly with devastating cameos with the bat and a scorching pace with the ball... He is one of only three men to have a career strike rate above 170, that too in a total of 314 games. With these attributes, he has quickly rocketed his way into the Howzat Best T20I team of the decade 2009-19. However, despite his 47 appearances in the maroon of the West Indies including World T20 titles in 2012 and 2016, his international record does not reflect the ferocity of the performances that have made him one of the biggest celebrities in the global game.
But Russell's brace of IPL player of the tournament honors in 2015 and 2019 have done more for his stature and marketability than a career of international brilliance could manage for many, and – dodgy knee permitting – there seems to be no stopping him on the franchise hamster wheel.
Also read: Most Runs in Test Cricket History
7. B Stokes
An all-rounder in cricket is worth his weight in gold. He brings balance to the side and that balance itself often helps to convert a good team into an excellent one. 2457 runs in 143 T20Is with an average of 24.17, Stokes has also taken 74 wickets with a bowling average of 38.6.
Over the years, he has matured as a cricketer. 2019 has been the year for Ben Stokes, not just in T20 cricket but in all forms of the game. He also won the Sports Personality of the Year and is only the 5th person to have received the honour since it began in 1954.
8. Shakib
Every time he goes on to bat, every time he marks his run-up, Shakib is expected to deliver nothing short of a hundred percent. He is undeniably one of the greatest all-rounders of the last decade. Bangladesh's biggest cricket superstar, Shakib deserves the credit for Bangladesh's success at the biggest stage. Shakib remains to be the third-highest wicket-taker in the shortest format after Shahid Afridi and Lasith Malinga and is a handy bowling option as a left-arm spinner.
1438 runs in 65 T20Is with an average of 26.14, Shakib has also taken 84 wickets with a bowling average of 20.67. While he is someone who can bat at any given position, his role as a finisher has been crucial for his national side as he takes calculated risks to help his side reach a challenging total.
Leg-Spinner
9. Rashid K
Afghani sensation, Rashid Khan has been a dominant figure in the world of T20 cricket. The young leg-spinner has 84 dismissals to his name in the 45 matches he has played in international T20 cricket. The spinner has two 5-wicket hauls and is one of the finest spinners in the scenario. The No. 1 ranked bowler in ICC T-20 cricket Rashid Khan deserves to be in the Howzat Best T20I team of the decade 2009-19
The young spinner has proven to be one of the upcoming spinning legends in the world of cricket. Rashid has not only dominated his bowling skills in international cricket but has also proven himself to be a match-winning bowler in domestic cricket. The bowler has lots of in-store and the upcoming decade will be dominated by the spinner.
Seam Express
10. M Starc
Bowlers that can be relied on for early wickets are exceptionally valuable, and this decade no one did it as well and as consistently as Mitch Starc. With a strike-rate of 16 balls per wicket, he is a valuable asset not just with the new ball but also in the death overs. He has an impressive tally of 175 wickets in 118 matches.
A bowler who found his soulmate in the form of speed has had the best calendar year in 2019. Starc's aggression from the word go is something that sets him apart from the other bowlers. Despite bowling his overs at the top and the tail of the innings, Starc has always maintained a superb economy rate of 6.74 – which is exceptional in T20 cricket
11. J Bumrah
The young bowler might be new to fame, but he has proven to be one of the best death bowlers in the world. He started as an off-season bowler for the country but has gone on to become the best bowler in the current Indian bowling line-up. The factors working for him are his pace and his toe-crushing yorkers that dominate any batsman in the world.
J. Bumrah has 51 wickets to his name in the 42 matches he has played. One of the most efficient bowlers in the world, he has been applauded by veteran seamers and batsmen from all around the globe. Bumrah can break a partnership, and his death-bowling skills are crucial for any team he plays in. He spearheads the pace attack in Howzat's Best T20I team of the decade 2009-19.
Twelfth Man
12. J Buttler
There was no clear candidate for the wicketkeeper – Brendon McCullum, Quinton de Kock, and Mohammad Shahzad were also options – but with a plethora of top-order players to choose from, Buttler's ability to bat in the middle order and provide his team with explosive innings helped him narrowly edge past other candidates.
In the death overs, J. Buttler scored at a strike rate of 172 this decade, and although he has since moved up the order, he retains the skills of a finisher. It should be noted, MS Dhoni's record in T20Is this decade was mixed; his average of 46 was exceptional, but he only scored at a strike rate of 132, and couldn't replicate his destructive IPL batting.
Now that is a T20I team anybody would bank on for their life, at least we will. Let us know if we missed out on anyone who you think is more deserving to be on this list and any of your favorites who can slide their way into this side.