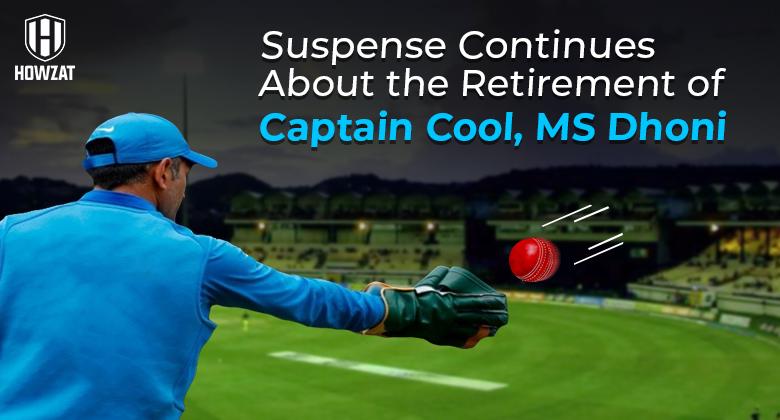 Suspense Continues About the Retirement of Captain Cool, MS Dhoni
Nearly two weeks ago, Virat Kohli uploaded a post that was a tribute to MS Dhoni, the former captain and wicket keeper the Indian cricket team, and since then rumours about the latter started creating a buzz. The rumour is likely to be proven right. Just after the World Cup 2019, the former captain had a two-month time off. Now, he has extended his holidays till November.
The 38-year-old Mahendra Singh Dhoni is serving in the Territorial Army as Lieutenant Colonel (honorary). He joined the Victor Force in the Kashmir Valley on 31st July served there till 15th August 2019. Due to that, he was excluded from the Twenty20 international series and One Day international series against the West Indies.
A source from the Board of Control for Cricket in India (BCCI) speculated that Dhoni is unlikely to participate against Bangladesh in the next series. According to the BCCI, a 45-day match schedule (for both international and domestic) is prepared considering training, anti-doping and whereabouts of all the senior cricket players and A Team players. For this upcoming series, Dhoni is not included. It is also speculated that he may not play the One Day championship and the Vijay Hazare Trophy for Jharkhand.
MS Dhoni has kept everyone, including cricket fans and the cricket board, in suspense. Since the World Cup 2019, the rumour of his retirement has continued to do the rounds. And, every time he misses a tournament or series, the speculations start getting stronger. Sunil Gavaskar, who is known for his stellar performance when nearing his retirement, said about Mahendra Singh Dhoni's retirement on national television, "I think he should be going without being pushed out. We need to look beyond Mahendra Singh Dhoni. He, at least, doesn't figure in my team."
At this moment, Rishabh Pant is looking to fill in the shoes of Dhoni. It's great time for Pant to show his skills and performance to make a place in the team with his talent. He has quite big shoes to fill and the batting coach, Ravi Shastri, is all set to focus on his performance in the upcoming series or tournaments.
It is said that most legends fail when it comes to choosing the right time to retire and history has been witness to it. Kapil Dev, who brought glory to the nation in bringing the World Cup trophy home for the first time ever, also failed at this. He retired after a tour of Australia in 1991, which proves miserable for him. He had completely lost his form by that time but continued to play and faced a lot of criticism for that.
Everyone wants to retire in a glorious way when they are in good form. So when a cricketer starts losing form, they are dropped from the team. The dropped cricketer usually wants to prove their worth, and in order to do that, they continue the game. It actually creates a bad impression among people.
In the biopic of Mahendra Singh Dhoni, Dhoni says that we are all servants of the nation and we are doing national duty. Undoubtedly, Dhoni has been a great servant of the nation and we want him to say goodbye in a glorious way.