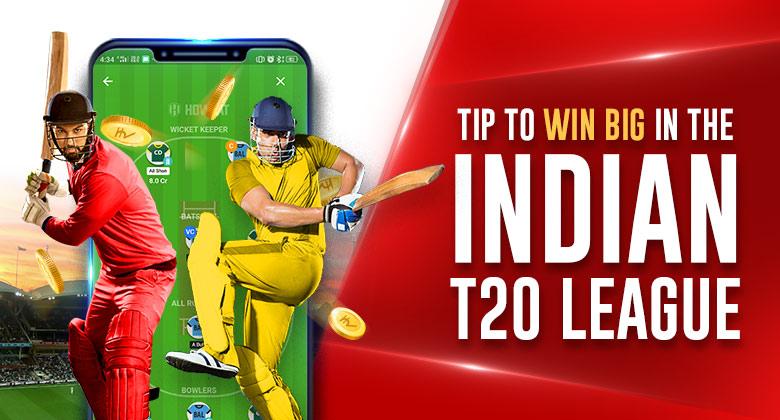 Tips to WIN BIG in the Indian T20 League
The Indian T20 League announced a stunning comeback in July. The 13th edition will start on 19th September 2020. Hosted in the UAE, the matches will be played behind closed doors because of the COVID-19 pandemic. Despite these safety regulations, the cricket fans are excited about the tournament. Fantasy Sports fans are also gearing up for a season of big winnings with the start of the Indian T20 League. We have talked to a few fantasy cricket fans and combined a list of tips and tricks to help players win fantasy cricket leagues during the Indian T20 League season.

Research thoroughly: This one is a must-do. There are some people who think that their fantasy team's performance is a matter of luck, but they couldn't be more wrong. Even a little bit of research can go a long way in ensuring that your fantasy team stands out in the crowd and helps you win. Here's what you should look out for when conducting your research-

Recent player performances and statistics
Pitch report
Complete squad information
Team performance while batting first vs. batting second
Player performance against specific teams and players



Studying Rules of your Fantasy App: You should check your fantasy sports app's rules before making your team. It will help you choose the best team that can score well on your chosen app. Here's what you need to know-

Point scoring system for T20 cricket matches
Total credits available to create a team
Total number of players you can pick from one category (Eg- Batsmen, Bowlers, etc.)
Maximum number of players you can pick from one team
Prize distribution, no. of winners, etc.



Choosing the right matches & contests: There will be 60 matches in the Indian T20 League this year. Each game will have multiple fantasy leagues/contests that you can join (eg.- Guaranteed Leagues, Head-to-Head, etc.). It is not advisable to enter all the matches and contests nor is it advisable to invest all your deposit into one contest. Pick and choose matches & contests for which you have conducted good research and are confident of winning.

Have a robust core set of players: After the first few rounds of matches, your research and instincts would help you pick a group of strong players who can consistently perform. These players would help you score more and win any contest, be it a guaranteed league or a head to head. Make sure you start picking up on the players' performances during the tournament and select a set of crucial players for every match they're playing in.

Look out for differentials: The rules of the Indian T20 League allows only four overseas players to play for a team in any given match. It would help if you tried to find the rising stars of Indian cricket who can perform well and are not under the radar of the general fantasy cricket playing population. These differentials can give your team the much-needed boost to beat the competition and win the top prize.


All-rounders are a safe bet: Whenever in doubt, while selecting your team for a match, always pick an all-rounder in your team. They are a safe bet as they can shine with both the bat or the ball. Howzat allows you to pick up to 4 all-rounders in your team, which is excellent, especially when you're in a hurry to finalize your team.

Captains & Vice Captains: As always, picking your captain and vice captain is the most important thing and you should never take it lightly. Your captain and vice captain's scores are multiplied 2 times and 1.5 times, respectively, on Howzat. It means that if your captain scores 100 points in a match, you will be awarded 200 points for it. Therefore, you must pick your top 2 players as the captain and the vice captain.

Wait for team announcement and toss: Always wait for the team announcement and toss before finalizing your team. The final 11 players playing from a team are announced an hour before the match. This allows you time to make sure you don't have a squad member on your team who is not playing. Also, as mentioned before, your team selection would vary depending on who is batting first and who is batting second. Therefore it is essential to wait for the toss before finalizing your team.

Choose the right contest: To win more money in the Indian T20 League, you have to pick the right contests. Howzat has a large range of contests you can play in; like the guaranteed league, beat the legend, etc. Guaranteed leagues or grand leagues offer a massive prize pool to win and have a small entry fee. They offer a good chance to win, but the competition is immense, so you might not win a considerable amount. On the other hand, Head to Head, Winner takes all, etc. offer a higher winning amount, but the odds of winning are higher for the person who has a better knowledge of cricket. You will have to decide the contest you feel will help you win your desired amount.
Howzat is one of the best apps in India to play a fantasy cricket game. We will be hosting all the matches from the Indian T20 League in the coming days. You can also get access to match predictions & fantasy tips on the Howzat blog. Download the app now & start winning every day!
#GharSeKhelo