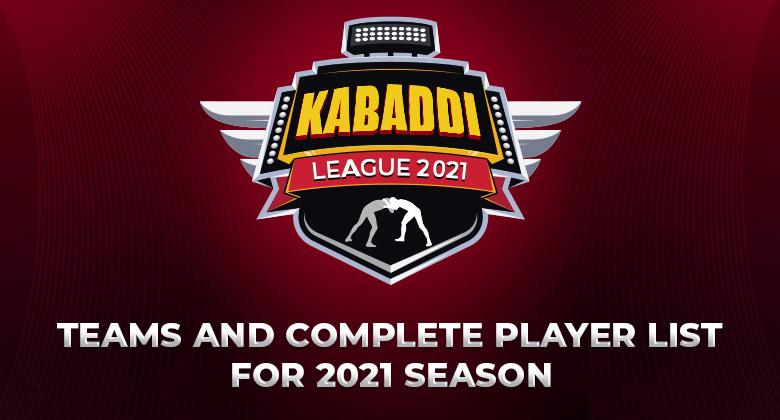 India Kabaddi League: Teams and Complete Player List for 2021 Season
The India Kabaddi League 2021 has kickstarted its 8th season on 22nd December 2021. As many as 12 Kabaddi teams will be in the fray for the title at the Sheraton Grand Bengaluru Whitefield Hotel & Convention Center. The league will be held without spectators this year.
All of the teams have played 2-3 matches depending upon their first-leg schedule. Let's take you through the details of these 12 teams for the 2021 season, who will fight to see their team win the title this time.
India Kabaddi League 2021 Player List
Bengal
Let's begin with the squad of Bengal – the defending champions.
Raiders: Maninder Singh (C), Ravindra Ramesh Kumawat, Sukesh Hegde, Sumit Singh, Akash Pikalmunde, Rishank Devadiga, Anand V
Defenders: Rinku Narwal, Abozar Mohajer Mighani, Vijin Thangadurai, Parveen, Rohit Banne, Darshan J, Sachin Vittala
All-Rounders: Mohammad Esmaeil Nabibakhsh, Manoj Gowda K, Rohit
Bengaluru
Bengaluru have won the title in 2018 and would look to win their second one this year.
Raiders: Pawan Kumar Sehrawat (C), Abolfazl Maghsoodloo Mahali, Banty, Chandran Ranjit, More GB, Deepak Narwal, Dong Geon Lee
Defenders: Saurabh Nandal, Amit Sheoran, Mohit Sehrawat, Mayur Kadam, Mahender Singh, Ankit, Vikas
All-Rounders: Naseeb, Rohit Sangwan, Ziaur Rahman
Delhi
Delhi were last season's runner-up and will look to go all the way this season.
Raiders: Ajay Thakur, Emad Sedaghatnia, Neeraj Narwal, Naveen Kumar, Ashu Malik, Sushant Sail
Defenders: Joginder Narwal (C), Mohit, Sumit, Mohammed Malak, Vikash Kumar, Jeeva Kumar
All-Rounders: Balram, Manjeet Chhillar, Sandeep Narwal, Vijay Jaglan
Gujarat
Gujarat have finished runner-up twice in 2017 and 2018. The team will look to grab its first trophy in Season 8.
Raiders: Ajay Kumar, Bhuvneshwar Gaur, Pardeep Kumar, Harshit Yadav, Maninder Singh, Sonu, Harmanjit Singh, Mahendra Rajput, Rathan K
Defenders: Parvesh Bhainswal, Sunil Kumar (C), Ravinder Pahal, Girish Maruti Ernak, Soleiman Pahlevani, Ankit, Sumit, Vishav Chaudhary
All-Rounders: Hadi Oshtorak
Haryana
Haryana qualified for the playoffs twice in their 3 seasons, but is yet to reach the final. This can be their year.
Raiders: Akshay Kumar, Ashish, Vikash Kandola (C), Mohammad Esmaeil, Vinay
Defenders: Ravi Kumar, Surender Nada, Chand Singh, Rajesh Gurjar
All-Rounders: Shrikant Tewtia, Vikas Jaglan, Hamid Mirzaei Nader, Ajay Ghanghas, Rajesh Narwal, Rohit Guilia
Jaipur
Winners of the inaugural season back in 2014, Jaipur have invested heavily in big players this season. Only time will tell if these big names bring big wins to the team.
Raiders: Arjun Deshwal, Naveen,Amir Hossein Maleki, Amin Nosrati, Amit Nagar, Susheel Gulia
Defenders: Shaul Kumar, Sandeep Kumar Dhull, Amit, Dharmaraj Cheralathan, Amit Hooda, Vishal, Pavan TR, Elavarasan A, Sushil Gulia
All-Rounders: Deepak Niwas Hooda (C), Nitin Rawal, Sachin Narwal
Patna
3-time winners Patna have missed out on the playoffs in the last 2 seasons. They would like to qualify and grab a 4th title this season.
Raiders: Monu, Mohit, Rajveersinh Pratap Rao Chavan, Jangkun Lee, Prashanth Kumar Rai (C), Sachin, Guman Singh, Monu Goyat, Selvamani K
Defenders: Neeraj Kumar, Sunil, Sourav Gulia, Sandeep, Shubham Shinde
All-Rounders: Sahil Mann, Shadloui Chiyaneh, Sajin Chandrasekar, Daniel Omondi
Related: India Kabaddi League 2021: Complete Time Table and Match Schedule
Pune
Pune is still looking for their first Kabaddi title. Let's see if their 2021 squad is able to do it.
Raiders: Nitin Tomar (C), Rahul Chaudhari, Pankaj Mohite, Pawan Kumar Kadian, Vishwas S, Mohit Goyat, Akash Sinde, Aslam Inamdar, Shubham Shelke
Defenders: Vishal Bhardwaj, Hadi Tajik, Baldev Singh, Sombir, Karamvir, Balasaheb Shahaji Jadhav, Sanket Sawant, Sourav Kumar, Abinesh Nadarajan
All-Rounders: E Subash, Victor Onyango Obiero, Govind Gurjar
Tamil
Tamil has struggled and finished last in all of their 3 seasons played, winning just 15 games in 68 matches played. These players will try to break the trend this season
Raiders: Manjeet, K. Prapanjan, Athul MS, Ajinkya Ashok Pawar, Bhavani Rajput, Asiri Alawathge
Defenders: PO Surjeet Singh Narwal (C), Himanshu, M. Abishek, Sagar, Mohammad Tuhin Tarafder, Sahil
All-Rounders: Sourabh Tanaji Patil, Anwar Saheed Baba, Sagar B. Krishna, Santhapanaselvam
Telugu
Part of the league since 2014, Telugu have qualified for the playoffs 5 times. The team would expect its players to win their maiden title in 2021.
Raiders: Rakesh Gowda, Rajnish, Ankit Beniwal, Siddharth Desai, Hyunsu Park, Rohit Kumar (C)
Defenders: Manish, Akash Choudhary, Aakash Dattu Arsul, C. Arun, Ruturaj Shivaji Koravi, Sandeep, Surender Singh, Abe Tetsuro, Prince D
All-Rounders: Adarsh T, Amit Chauhan, G. Raju
Mumbai
Mumbai already have one title to its name, and are among the favorites to lay their hands on the Season 8 trophy in 2021.
Raiders: Ajith V Kumar, Abhishek Singh, Navneet, Jashandeep Singh, Prathap S, Kamlesh
Defenders: Fazel Atrachali (C), Harendra Kumar, Sunil Siddhgavali, Ajeet, Rinku, Rahul Sethpal
All-Rounders: Mohsen Maghsoudlou, Pankaj, Ajinkya Kapre, Ashish Kumar
UP
UP joined the league in 2017 and have qualified for the next round in all its 3 seasons. These players would like to take the team all the way this time around.
Raiders: Surender Gill, Pardeep Narwal, Md. Masud Karim, Mohammad Taghi Paein Mahali, Shrikant Jadhav, Sahil, Gulveer Singh, Ankit, Rohit Tomar, James Kamweti, Aman Hooda
Defenders: Nitesh Kumar (C), Gaurav Kumar, Aashish Nagar, Sumit, Ashu Singh, Shubham Kumar
All-Rounders: Gurdeep, Nitin Panwar, Bintu Narwal
India Kabaddi League 2021: Live streaming details
The Kabaddi League 2021 will be broadcast on the Star Sports Network TV channels, and will be streamed live on Disney+ Hotstar.
Channels List: Star Sports 2, Star Sports 2 HD, Star Sports 1 Hindi, Star Sports 1 Hindi HD, Star Sports First, Star Sports 1 Tamil, Star Sports 1 Kannada, Star Sports 1 Telugu, Star Maa Gold and Star Suvarna Plus
Howzat is hosting all the upcoming kabaddi matches from the India Kabaddi League. You can get access to the latest kabaddi match predictions and trending kabaddi news on the Howzat blog. Download the kabaddi fantasy app now, make your fantasy kabaddi team & start winning every day!