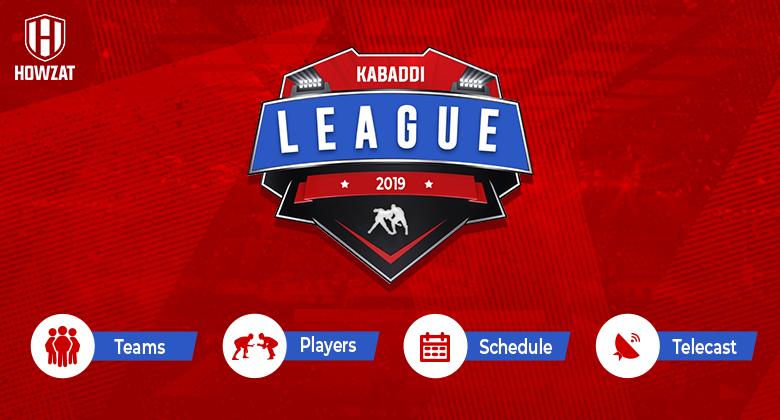 Kabaddi League 2019: Teams, Players, Schedule, Timings and Telecast
The ICC World Cup 2019 has already ended but the Kabaddi League 2019 has not let down the charm of sports. The Kabaddi League is a professional, premier Kabaddi tournament in India. It is the seventh league since its first edition in 2014. The format of the league is similar to that of the Indian Premier League (IPL).
More About the Kabaddi League 2019
The Kabaddi League is a pioneering initiative made collectively by Star and Mashal Sports. Since its first edition in 2014, this tournament has won millions of hearts not only in India but also across the world. This league is supported and backed by the Amateur Kabaddi Federation of India (AKFI), the International Kabaddi Federation (IKF), and the Asian Kabaddi Federation (AKF). Over the years, the league has recorded exponential growth in its viewership. Within a short period, it has emerged as the second-most expensive sports league in India.

While the Kabaddi League was being formulated, there were doubts about whether it would be successful as there were not many famous, elite Kabaddi players. However, the grassroots of this game are so strong in India that the Kabaddi League has become a highly successful league. It attracted millions of audience from both metropolitan and rural areas.
Kabaddi League 2019 Teams
The latest Kabaddi games in the league started on 20 July 2019. As many as 12 teams are competing against each other. The league will continue for three months and the final is scheduled on October 19. The Kabaddi League 2019 has introduced major changes and has brought a rejuvenated spirit in this season. The competing 12 Kabaddi teams are as follows:
Bengal
Bengaluru
Delhi
Gujarat
Haryana
Jaipur
Patna
Pune
Tamil Nadu
Hyderabad
Mumbai
U.P.
2019 Kabaddi Schedule
The Kabaddi 2019 Schedule is three-month long. The teams have already unveiled their list of fixtures on social media handles. The first match of the Kabaddi League 2019 was held between Mumba and Hyderabad on July 20 at the Gachibowli Stadium in Hyderabad.
Two matches are scheduled almost every day. During this three-month period, Kabaddi matches will be held every day and based on the venue they will be categorized as legs or phases. The schedule along with Kabaddi match list 2019 is as follows:
| | |
| --- | --- |
| MATCHES | DATES |
| Hyderabad Leg | 20-26 July |
| Mumbai Leg | 27 July- 2 August |
| Patna Leg | 3-9 August |
| Ahmedabad leg | 10-16 August |
| Chennai Leg | 17-23 August |
| New Delhi Leg | 24-30 August |
| Bangalore Leg | 31 August- 6 September |
| Kolkata Leg | 7-13 September |
| Pune Leg | 14-20 September |
| Jaipur Leg | 21-27 September |
| Panchkula Leg | 28 September- 4 October |
| Greater Noida Leg | 4-11 October |
Schedule of Playoff Kabaddi Matches
Playoff matches are scheduled on October 14. The first match will be held between the 3rd ranked team and the 6th ranked team (Elimination Match 1), and the second will be held between the 4th ranked team and the 5th ranked team (Elimination Match 2). On October 16, 2 semi-final matches will be held: the first between the 1st ranked team and the winner of Elimination Match 1 (Semi-final Match 1) and the second between the 2nd ranked team and the winner of Elimination Match 2 (Semi-final Match 2).
The final match of the Kabaddi League 2019 is scheduled on October 19, between the winners of Semi-final Match 1 and Semi-final Match 2.
Kabaddi Matches Timing and Telecast
Kabaddi League 2019 matches will start at 07:30 p.m. When there are two matches on a day, the second match will begin at 08:30 p.m. Viewers can watch the live telecast of these Kabaddi matches on Star Sports 1 and Star Sports 1 HD. Online telecast can also be watched on Kabaddi live streaming apps.
2019 Kabaddi Stats and Information
There are a few changes in Kabaddi League rulesin this edition. Unlike previous seasons, there is no zonal system, which means that each team will be playing against all other teams. Besides, there will be single points table instead of two.
S. Desai is the most expensive player of this edition as Hyderabad bought him for INR 1.45 crore. The 28-year-old S. Desai is one of the best Kabaddi players. He had an awesome kick-start with 218 raid points in his debut Kabaddi match against Mumba in the last edition.
Last season, Bengaluru won its first title and it will be playing as defending champion. However, Patna will be playing as the most successful team winning three titles consecutively.
To check out more updates about the Kabaddi League, stay tuned.