Chennai vs Kolkata: Reinvigorated Stars Face the Fading Force
Last season was a rude wake-up call for Team Chennai, who finished 7th in the points table and got knocked out of the play-offs for the first time. Prior to that, despite serving a two-year ban, they had won the title three times and reached the final five other times in the Indian T20 League. Kolkata, the object of many jokes in the league's early years, were similarly consistent, reaching the play-offs six times between 2011 and 2018 and winning the trophy twice.
Apart from Mumbai, these are the only teams to win the title more than once. However, the thoughts of glory are far away for Kolkata as they aim to rebuild after a disastrous first half of the 2021 season. With just 2 wins, they will need to be near-perfect from here on to make it to the play-offs.
Chennai have given themselves a buffer by winning 5 of their first 7 games. Faf du Plessis and Moeen Ali have led the way, and a play-off place is the bare minimum expected as MS Dhoni brings the curtain down on his glorious career.
Chennai Team vs Kolkata Team: Head-to-Head Record
This has been one of the most keenly contested rivalries in the Indian T20 League, with Chennai having won 15 of the 24 games played. They have continued their domination over Kolkata in recent times, having won 4 of the last 5 matches played between the two sides.
Matches: 24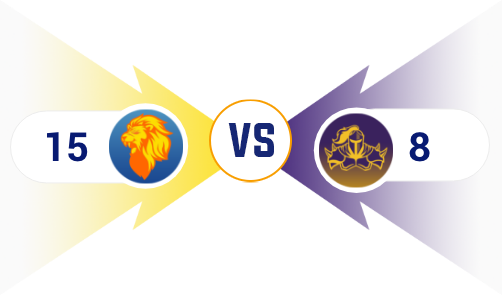 One match in 2009 was abandoned.
Chennai won one match when they met in the Champions League T20 in 2014.
Chennai Team vs Kolkata Team: Head-to-Head History
Kolkata won a thrilling high-scoring contest in the 2012 final with 2 balls to spare.
Year
2008
2009
2010
2011
2012
2013
2014
2015
2018
2019
2020
2021

Chennai Won

2
0
2
1
1
2
1
1
1
2
1
1

Kolkata Won

0
1
0
1
2
0
1
1
1
0
1
0

Total
2
2*
2
2
3
2
2
2
2
2
2
1
*The match in Cape Town was abandoned.
Chennai vs Kolkata: Indian T20 League 2021 Schedule
Sr. No
Match
Date
Time
Location/Stadium

15
Kolkata vs Chennai
Wednesday, 21st April
7:30 PM
Mumbai

38
Chennai vs Kolkata
Sunday, 26th September
3:30 PM
Abu Dhabi
Team Chennai and Kolkata Full Squad for Indian T20 League 2021
Team Chennai Squad
Team Kolkata Squad
Josh Hazlewood's participation boosts Chennai's pace stocks hugely, but the onus will still be on the spin of Ravindra Jadeja and Moeen Ali, with veteran Imran Tahir being a wildcard option. They need more runs from their Indian stalwarts like MS Dhoni and Suresh Raina. Here are some key players who can play a key role for Team Chennai in the 2021 season:
The big-hitting Andre Russell was the exception in a batting line-up that struggled for fluency in the first leg of the tournament. Pat Cummins (replaced by Tim Southee) contributed with 9 wickets and quick runs, and will be badly missed in the second phase of the league. Here are some players who can play a key role for Team Kolkata:
Chennai vs Kolkata: Top Performers & Statistics
Top Performers with Bat
Top Performers with Ball
Chennai vs Kolkata Most Runs (2008-2021)

Suresh Raina (Chennai)
736 runs

MS Dhoni (Chennai)
499 runs

Brendon McCullum (Kolkata and Chennai)
346 runs

Andre Russell (Kolkata)
324 runs

Robin Uthappa (Kolkata)
318 runs

Chennai vs Kolkata: Highest Scores (2008-2021)

Michael Hussey (Chennai)
95 runs (2015)

Faf du Plessis (Chennai)
95* runs (2021)

Manvinder Bisla (Kolkata)
92 runs (2013)

Manvinder Bisla (Kolkata)
89 runs (2012)

Andre Russell (Kolkata)
88* runs (2018)
Chennai vs Kolkata Most Wickets (2008-2021)

Ravi Ashwin (Chennai)
16 wickets

Sunil Narine (Kolkata)
16 wickets

Ravindra Jadeja (Chennai)
15 wickets

Piyush Chawla (Kolkata)
12 wickets

Dwayne Bravo (Chennai)
11 wickets

Chennai vs Kolkata: Best Bowling Figures (2008-2021)

Ravindra Jadeja (Chennai)
4/12 (2014)

Makhaya Ntini (Chennai)
4/21 (2008)

Imran Tahir (Chennai)
4/27 (2019)

Brad Hogg (Kolkata)
4/29 (2015)

Deepak Chahar (Chennai)
4/29 (2021)
How to Play Indian T20 Fantasy Cricket and Win Real Cash
This has been an evenly matched rivalry in recent years, with both teams having a history of going the distance. This season, though, Kolkata find themselves struggling to get into the play-off contention, while Chennai will want to showcase their resurgence after a poor 2020 campaign. The Chennai vs Kolkata stats provided here will help you select players who might fetch you the highest fantasy points in the upcoming clash.
You can also check out our official blog for all the latest updates and match predictions. If you're just starting out, learn how to play fantasy cricket and fantasy game tips & tricks on Howzat to win big in the Indian Fantasy League. Download the Howzat fantasy cricket app now and enjoy gaming!
Teams Participating in the Indian T20 League 2021
FAQs: Chennai vs Kolkata
How many times have Chennai won the Indian T20 League?
Team Chennai has won the Indian T20 League three times, in 2010, 2011 and 2018. They have also lost five finals.
How many times have Kolkata won the Indian T20 League?
Kolkata won both the times they made it to the finals, against Chennai in 2012 and Punjab in 2014.
How many players have Chennai and Kolkata bought in the Indian T20 League 2021 auction?
Chennai picked up 6 players in the auction, with Krishnappa Gowtham their most expensive signing with a price tag of ₹9.25 crore. Kolkata bought 8 players, with Shakib Al-Hasan being their most expensive selection in the auction for a price of ₹3.2 crore.
Why have Kolkata struggled this season?
Of all their specialist batters, only Nitish Rana and Rahul Tripathi have scored a half century this season. However, neither have scored especially quickly.
Which key players will be missing or returning to the fray?
Pat Cummins, Kolkata's leading wicket taker, will miss the UAE leg. However, his fellow Australian, Josh Hazlewood, will return to boost Chennai's pace stocks.
Upcoming Match Predictions and Other Related Articles