Kolkata vs Punjab: Struggling Giants Face the Basement Side
Though Kolkata missed out only by the slimmest of margins, neither team made the play-offs last season. And if the first half of this Indian T20 League season was any guide, both will struggle to keep pace with the stronger sides in the competition.
For Kolkata, memories of the glory years and the titles in 2012 and 2014 are fading fast. Their last play-off appearance was in 2018, and with just 2 wins from 7 games so far in 2021, it will need a near-perfect second half for them to jump into the top four.
Punjab's barren run is now into a seventh season. A look at their rivalry with Kolkata shows just why they've struggled so much in recent years. At one stage, after winning their first match of the 2014 season in Abu Dhabi, the two teams were locked at 6-6 in their head-to-head rivalry. Now the stats are 19-9 in Kolkata's favor, including an 8-game winning streak and 5 wins from their last 6 meetings.
Anil Kumble is the 9th coach Punjab have had in the league, and he has his task cut out to improve on last season's 6th place.
Kolkata Team vs Punjab Team: Head-to-Head Record
From May 2014 to May 2017, Kolkata won 8 straight matches between these two teams.
Matches: 28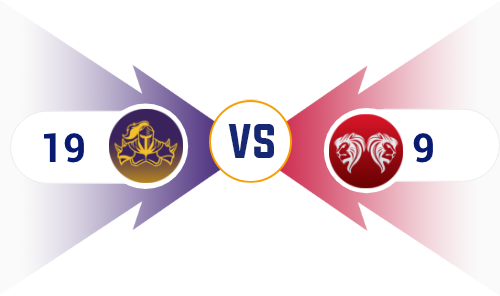 Kolkata Team vs Punjab Team: Head-to-Head History
Punjab's only victory in their last six outings against Kolkata came at Sharjah in 2020.
Year
2008
2009
2010
2011
2012
2013
2014
2015
2016
2017
2018
2019
2020
2021

Kolkata Won

1
1
1
1
1
1
3
2
2
1
1
2
1
1

Punjab Won

1
1
1
0
1
1
1
0
0
1
1
0
1
0

Total
2
2
2
1
2
2
4
2
2
2
2
2
2
1
Kolkata vs Punjab: Indian T20 League 2021 Schedule
Sr. No
Match
Date
Time
Location/Stadium

21
Punjab vs Kolkata
Monday, 26th April
7:30 PM
Ahmedabad

45
Kolkata vs Punjab
Friday, 1st October
7:30 PM
Dubai
Team Kolkata and Punjab Full Squad for Indian T20 League 2021
Team Kolkata Squad
Team Punjab Squad
Pat Cummins, who has withdrawn to focus on his assignments with Australia, took 9 wickets and smashed some quick runs in the first leg. He will be badly missed, especially with only Andre Russell batting with any fluency. Here are some players who can play a key role for Kolkata.
Punjab need far more from their bowlers if they're to push for a play-off place. Mohammed Shami and Chris Jordan have plenty of international experience, while Adil Rashid and Nathan Ellis have been signed as replacements for Jhye Richardson and Riley Meredith. Ravi Bishnoi showed excellent form in the first half of the season, as did Deepak Hooda. Punjab will hope that KL Rahul and Mayank Agarwal continue to score heavily at the top of the order. Chris Gayle remains a handy wild card to have.
Kolkata vs Punjab: Top Performers & Statistics
Top Performers with Bat
Top Performers with Ball
Kolkata vs Punjab Most Runs (2008-2021)

Gautam Gambhir (Kolkata)
492 runs

Robin Uthappa (Kolkata)
438 runs

Wriddhiman Saha (Kolkata and Punjab)
394 runs

Chris Gayle (Kolkata and Punjab)
331 runs

Glenn Maxwell (Punjab)
262 runs

Kolkata vs Punjab: Highest Scores (2008-2021)

Wriddhiman Saha (Punjab)
115* runs (2014)

Mahela Jayawardene (Punjab)
110* runs (2010)

Manish Pandey (Kolkata)
94 runs (2014)

Chris Gayle (Kolkata)
88 runs (2010)

Sourav Ganguly (Kolkata)
86* runs (2008)
Kolkata vs Punjab Most Wickets (2008-2021)

Sunil Narine (Kolkata)
30 wickets

Piyush Chawla (Punjab and Kolkata)
24 wickets

Umesh Yadav (Kolkata)
14 wickets

Andre Russell (Kolkata)
13 wickets

Morne Morkel (Kolkata)
10 wickets

Kolkata vs Punjab: Best Bowling Figures (2008-2021)

Sunil Narine (Kolkata)
5/19 (2012)

Sunil Narine (Kolkata)
4/19 (2015)

Andre Russell (Kolkata)
4/20 (2016)

Umar Gul (Kolkata)
4/23 (2008)

Sandeep Sharma (Punjab)
4/25 (2015)
How to Play Indian Fantasy T20 Cricket and Win Real Cash
Both teams face a battle to get into the play-offs after poor starts to the season. Punjab managed to win 3 out of 8 games, but Kolkata sit below them in the table with just 2 wins from 7 matches. The Kolkata vs Punjab stats provided here will help you select players who might fetch you the highest fantasy points in the upcoming clash.
You can also check out our official blog for all the latest updates and match predictions. If you're just starting out in the world of fantasy cricket, learn how to play fantasy cricket and fantasy game tips and tricks on Howzat to win big in the Indian Fantasy League. Download the Howzat fantasy cricket app now and enjoy gaming!
Teams Participating in the Indian T20 League 2021
FAQs: Kolkata vs Punjab
How many times have Kolkata won the Indian T20 League?
Twice, in 2012 and 2014. On the second occasion, they beat Punjab in the final.
How many players have Kolkata and Punjab bought in the Indian T20 League 2021 auction?
Kolkata picked up 8 players, with Shakib Al-Hasan being their most expensive selection in the auction for a price of ₹3.2 crore. Punjab bought 9 players and were the biggest spenders, with their outlay including ₹14 crore for Jhye Richardson.
Who might the conditions favor?
Given how unequal the head-to-head record has been, it's surprising that Punjab have won 2 of their 3 matches in the UAE. They have yet to play in Dubai though.
Can Kolkata replace Cummins?
Tim Southee, who has been signed as Cummins' replacement, has taken 28 wickets in his previous 40 outings in the Indian T20 League, with an economy rate of 8.74. He tends to struggle when there's no seam movement on offer.
Upcoming Match Predictions and Other Related Articles