Play Fantasy Cricket Online on Howzat
Fantasy cricket itself defines that players can enjoy playing the game with fantasy teams using real players. So just don't stop at watching cricket and take your love for the game to the next level with fantasy cricket league. Be part of the excitement of a nail-biting finish, just like your favorite match!
1. What is Fantasy Cricket?
2. Rise of Fantasy Cricket
3. How Fantasy Cricket Works?
4. Why To Play Fantasy Cricket?
5. How to Play Fantasy Cricket?
6. Which Players to Select to Create a Cricket Team?
7. How to Win Fantasy Cricket Games On Howzat?
8. FAQs
What is Fantasy Cricket?
Fantasy cricket is a strategy based online fantasy game that involves selecting and creating a virtual team of real 11 players in a real-world match and score points on the basis of the performance of these players. Your objective is to select the best possible playing 11 and score higher than your opponents.
Although some luck might increase your chances of winning, fantasy cricket is predominantly a game of skill that requires a good knowledge of the game and excellent analytical abilities. A good research about players and teams will help you select the best team for a match and win contests.
Why Play Fantasy Cricket on Howzat?
Howzat, one of the leading fantasy cricket websites, has specifically designed one of the most innovative & exciting fantasy cricket games for the Indian sports fans. You can play all the regular formats of cricket (T20, ODI & Tests) and various domestic leagues like Indian T20 League, and international tournaments and matches like T20 World Cup.
More reasons to play fantasy cricket leagues on the Howzat Fantasy App:
How To Create a Fantasy Cricket Team on Howzat?
To create a fantasy cricket team on Howzat, you need to follow the below steps:
Every fantasy team you make on Howzat must have 11 players

A maximum of 7 players can be selected from one team

Your Howzat fantasy team need to be within 100 credits

Follow the below player category selection criteria for your fantasy cricket team:

| Player Type | Minimum Player | Maximum Players |
| --- | --- | --- |
| Wicket Keeper (WK) | 1 | 4 |
| Batter (BAT) | 1 | 6 |
| All Rounder (AR) | 1 | 4 |
| Bowler (BOWL) | 1 | 6 |

Choose a captain and vice-captain for your team. The captain score 2x points and the vice-captain score 1.5x points.
Read more about Tips and Tricks in Fantasy Cricket to create a winning fantasy team.
How to Play Fantasy Cricket on Howzat?
Getting started with fantasy cricket on Howzat is super easy. Follow these easy steps to get started:
1
Login
Sign up or log in to your account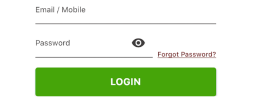 4
Choose your captain and vice-captain
Choose your captain (2x points) and vice-captain (1.5x points) to earn extra points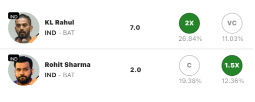 2
Select a Match
Choose a match you would like to play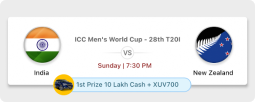 5
Choose a Contest
Choose from a wide variety of contests available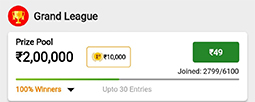 3
Create a Team
Create your team from the two teams within 100 credit points.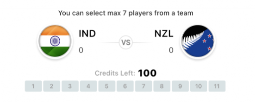 6
Track Your Score and Winnings
Follow your team rank on the live leaderboard. Once the match completes check your WINNINGS!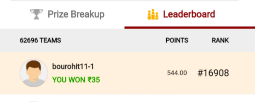 Play Popular Fantasy Cricket Leagues on Howzat
You can create fantasy teams in various T20 fantasy leagues around the world. Here are some of the popular fantasy cricket leagues to make your fantasy cricket team on Howzat.
• Indian T20 League
Started in 2008, Indian T20 League is arguably the biggest and toughest domestic T20 league in the world. A total of 10 teams (Chennai, Delhi, Gujarat, Kolkata, Lucknok, Mumbai, Punjab, Rajasthan, Bangalore, and Hyderabad) take part in the league. Now, you also have a chance to win real cash by making fantasy cricket teams for every match of the Indian T20 League.
• T20 World Cup
The Men's T20 World Cup (formerly known as World Twenty20) is the international championship of T20 cricket. Played once every two years, The T20 World Cup trophy is the most coveted prize in the shortest format of the game. The 2022 T20 World Cup is coming soon and you can be a winner of big cash prizes during the competition.
• Australia T20 League
Started in 2011, Australia T20 League is second in terms of quality of cricket and players participating behind the Indian T20 league. A total of 8 teams (Adelaide, Brisbane, Hobart, Perth, Melbourne S, Melbourne R, Sydney T, Sydney S) take part in the league. Make your fantasy teams for every match of the Australia T20 League and win cash daily.
• Caribbean T20 League
The top T20 League competition in the West Indies, Caribbean T20 League is dubbed the "The Biggest Party in Sport". Played by 6 teams (Barbados, Jamaica, St. Lucia, Trinidad, St. Kitts and Guyana) over 34 matches, the league is full of excitement and entertainment for the players and cricket fans. You, too, can be a part of this fun and win daily cash prizes on Howzat.
• Pakistan T20 League
Established in 2016, Pakistan T20 League is a professional T20 cricket league played in Pakistan. 6 teams (Islamabad, Karachi, Lahore, Multan, Peshawar, and Quetta) representing six cities of Pakistan take part in the league. Make your fantasy teams in the Pakistan T20 League on Howzat and be part of the fun.
How To Win Daily Cash Prizes on Howzat Fantasy Cricket
Fantasy cricket is not just about picking random 11 or star players to score big points for you. In order to score more points than your opponents, your analytical skills and research will come into play. Look at past statistics of the players, pitch and weather reports to give you an edge.
After that, the important part is to choose the correct captain and vice-captain because they give you 2x and 1.5x points respectively. Also, look at how various bonus points are given out for certain actions in a match. For example: a direct hit run-out or 3 catches taken by a player.
Once the match is over, the results will be declared. If you are in the winning position on the contest leaderboard, you will win cash prizes. After that, withdraw your winnings with minimum ease.
Fantasy Cricket: FAQs