Fantasy Cricket
Fantasy cricket itself defines that players can enjoy playing the game with fantasy teams using real players. Fantasy cricket in India has grown multiple times in recent years, including the platforms as well as the users. So just don't stop at watching cricket and be part of the excitement of a nail-biting finish in your favorite match. Take your love for the game to the next level with fantasy cricket league.
1. What is Fantasy Cricket?
2. Rise of Fantasy Cricket
3. How Fantasy Cricket Works?
4. Why To Play Fantasy Cricket?
5. How to Play Fantasy Cricket?
6. Which Players to Select to Create a Cricket Team?
7. How to Win Fantasy Cricket Games On Howzat?
8. FAQs
What is Fantasy Cricket?
Fantasy cricket is an online fantasy sports game that involves selecting a virtual team of real players from two real teams and scoring points on the basis of the performance of these players in a real-world match. Your objective is to select the best possible playing 11 from two opponent teams playing, score the highest points, and beat your competitors.
Howzat, one of the leading fantasy sports websites, has specifically designed one of the most innovative & exciting fantasy cricket games for the Indian sports fans. You can choose to play all the regular formats of cricket (T20, ODI & Tests) across various domestic leagues like Indian T20 League, and international tournaments like T20 World Cup.
Although some luck might increase your chances of winning, fantasy cricket is predominantly a game of skill that requires a good knowledge of the game and excellent analytical and predictive abilities. A good understanding of the game and a little bit of research will help you select the best players for a match and win contests.
Rise of Fantasy Cricket
We are a nation of cricket maniacs and cricket is like a religion for us. There are a lot of reasons why Indians love and enjoy cricket so much. It's simply something that unites the whole country like nothing else. Add to that, high-speed internet connections, availability of affordable smartphones and the option of playing on a handheld device anytime anywhere have made cricket fantasy league immensely popular in India.
Why To Play Fantasy Cricket?
But what makes fantasy cricket so interesting? Why has it become so popular with cricket lovers? Here are some reasons for the ever-growing popularity of fantasy cricket leagues.
How to Play Fantasy Cricket?
Getting started with fantasy cricket on Howzat is super easy. Follow these easy steps to get started:
1
Login
Sign up or log in to your account.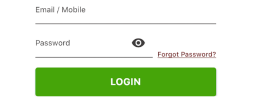 4
Choose your captain and vice-captain
Choose your captain (2x points) and vice-captain (1.5x points) to earn extra points.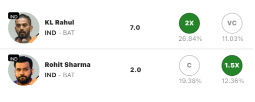 2
Select a Match
Choose a match you would like to play.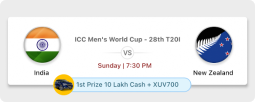 5
Choose a Contest
Choose from a wide variety of contests available.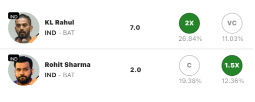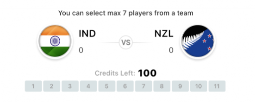 6
Track Your Score and Winnings
Keep check of your score on the leaderboard. Once the match completes check your WINNINGS!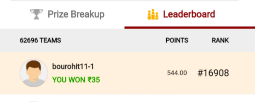 Which Players to Select to Create a Fantasy Cricket Team?
Select players from the playing XIs of both the teams. Edit your team after the announcement of playing 11 (replace any player not playing in the match).
There must be at least 4 players from each team.
A maximum of 7 players can be selected from one team.
Select the minimum number of players required from each department. Your team must include at least 1 wicketkeeper, 1 batsman, 1 all-rounder, and 1 bowler.
Know more about Tips and Tricks in Fantasy Cricket .
How to Win Fantasy Cricket Leagues On Howzat?
Winning in a fantasy cricket league requires skill, patience, and persistence. A careful selection of players is crucial to creating a match-winning team. Fantasy cricket requires you to create a team of 11 players, including batsmen, bowlers, wicket-keepers, and all-rounders.
You can leverage our dedicated blog section by reading the daily match predictions and understanding the pitch conditions, knowing the weather reports, past performances, head to head results and much more.
Play Fantasy Cricket and Win Daily Cash Prizes
Fantasy cricket is not just about luck or punting and picking a star player to score big for you. In order to score more points than your opponents, you need to read the game well, look at past statistics of the players, the pitch reports and then find those who will be the difference and give you an edge.
You start by picking players from the various categories (wicketkeeper, batsman, all-rounder, bowler). You have to vary the combination based on the type of teams that are playing, the playing conditions, etc. (whether it is batting or bowling friendly). After that, the important part is to choose the correct captain and vice-captain because they give you 2x and 1.5x points respectively.
Your analytical skills and research will come into play in figuring out that one player that can be a difference in giving you more points over your opponents. Always look at how points are given out for certain actions, for example: a direct hit run-out or a bowler who takes 3 wickets in a game. Check out the points scoring system on Howzat.
Your fantasy team will earn points over the course of a game and you can keep tabs on the leaderboard throughout to see what your rank is. Once the match is over, the results will be declared and if you are in one or more of the winning positions, you will win cash prizes. You can withdraw your cash winnings with ease.
Fantasy Cricket: FAQs