Play Fantasy Cricket Online
Fantasy cricket itself defines that players can enjoy playing the game with fantasy teams using real players. So just don't stop at watching cricket and take your love for the game to the next level with fantasy cricket league. Be part of the excitement of a nail-biting finish, just like your favorite match!
1. What is Fantasy Cricket?
2. Rise of Fantasy Cricket
3. How Fantasy Cricket Works?
4. Why To Play Fantasy Cricket?
5. How to Play Fantasy Cricket?
6. Which Players to Select to Create a Cricket Team?
7. How to Win Fantasy Cricket Games On Howzat?
8. FAQs
What is Fantasy Cricket?
Fantasy cricket is a skill and strategy based online game that allows users to create their own virtual team of 11 real players, considering their recent form, pitch conditions, and playing conditions. These teams are created before they are all set to compete in real matches all over the world. You score points on the basis of the performance of these players in the actual match. Your objective is to select the best possible 11 players from the two teams playing and score higher than your opponents. Howzat is one of the leading fantasy cricket websites for Indian sports fans.
Although some luck might increase your chances of winning, fantasy cricket is predominantly a game of skill that requires a good knowledge of the game and excellent analytical abilities. A good research about players and teams will help you select the best team for a match and win contests.
Play Fantasy Cricket on Howzat & Win Real Cash!
Online fantasy cricket has seen unbelievable growth in the last few years in India. But what makes playing fantasy cricket on Howzat, the biggest fantasy cricket app in India so exciting? On Howzat, you can become a team selector and not just watch the live cricket match. Select the 11 best players who you think will score the maximum fantasy points, and win real cash.
Be part of the ODI World Cup leaderboard and stand a chance to win big on the HOWZAT Fantasy App. Just download the Howzat fantasy app, and take your love for the sport to a whole new level.
How To Download Fantasy App?
You can download the Howzat fantasy cricket app on both kinds of devices - either Android or iOS. Follow the below easy steps to install and run the app on your mobile phone.
1) Download Howzat Cash Game From Google Play Store
Step 1:- Go to Google Play Store
Step 2:- Type Howzat Cricket App in Play Store search bar
Step 3:- Click on the Install button to install the app on your phone
Step 4:- Once installed, click on "Play" & start winning exciting prizes daily
2) For Android Users
Step 1:- Go to Howzat Official Website
Step 2:- Click on "Download Android App" button
Step 3:- Next, you will get a pop-up that reads, "This type of file can harm your device. Do you want to install howzat.apk anyway?" Select OK. Howzat is 100% safe to install and from a trusted source!
Step 4:- Once installed, "Sign Up" on the app and start playing
3) For iOS Users
Step 1:- Go to the iOS App Store and search for "Howzat."
Step 2:- Click on "Download" button/logo
Step 3:- After downloading the app, click on the "Open" button
Step 4:- Register to start playing on Howzat!
What is the Fantasy Cricket Format on Howzat?
Fantasy cricket works in a similar way to that of a game of cricket on the ground. The basic difference is that whenever a player scores runs or takes a wicket, you gain the equivalent amount of fantasy points. You win when your selected team scores the points required to be in the winning zone.
The complete fantasy points system is already pre-defined on the basis of the various ways a player can contribute during the match. For example, scoring runs, hitting a six, taking a wicket, successful stumping and many more. Check out the fantasy points system section for the detailed version.
Why Play Fantasy Cricket on Howzat App?
Howzat, one of the leading fantasy cricket websites, has specifically designed one of the most innovative & exciting fantasy cricket games for every Indian sports fan. Play all the regular formats of cricket (T20, ODI & Tests) and various domestic leagues and international tournaments Cricket World Cup and matches alongside 30 Million+ users on the app.
More reasons to play cricket fantasy leagues on the Howzat Fantasy App:
Fantasy Points System on Howzat App
The Fantasy cricket points scoring system is slightly different from one format to another (Test/ODI/T20/T10). For example, if a bowler bowls a maiden over in T20I, twelve points are added. However, there are no points awarded for a maiden bowled in a Test match.
In a similar way, if a batter is scoring at a low strike rate in a T20I/ODI match - points are deducted. However, if the same happens in a Test match, no points are deducted. Check out the detailed fantasy cricket points system used during the Howzat fantasy cricket matches.
How To Create a Fantasy Cricket Team?
To create a fantasy cricket team on Howzat, you need to follow the below steps:
Every fantasy team you make on Howzat must have 11 players

A maximum of 10 players can be selected from one team

Your Howzat fantasy team need to be within 100 credits

Follow the below player category selection criteria for your fantasy cricket team:

| Player Type | Minimum Player | Maximum Players |
| --- | --- | --- |
| Wicket Keeper (WK) | 1 | 8 |
| Batter (BAT) | 1 | 8 |
| All Rounder (AR) | 1 | 8 |
| Bowler (BOWL) | 1 | 8 |

Choose a captain and vice-captain for your team. The captain score 2x points and the vice-captain score 1.5x points.
Read more about Tips and Tricks in Fantasy Cricket to create a winning fantasy team.
How to Play Fantasy Cricket on Howzat?
Getting started with fantasy cricket on Howzat is super easy. Follow these easy steps to get started:
1
Login
Sign up or log in to your account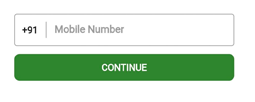 4
Choose your captain and vice-captain
Choose your captain (2x points) and vice-captain (1.5x points) to earn extra points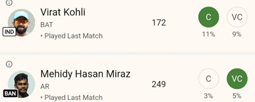 2
Select a Match
Choose a match you would like to play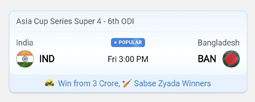 5
Choose a Contest
Choose from a wide variety of contests available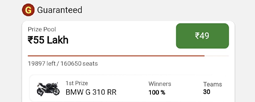 3
Create a Team
Create your team from the two teams within 100 credit points.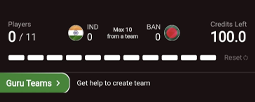 6
Track Your Score and Winnings
Follow your team rank on the live leaderboard. Once the match completes check your WINNINGS!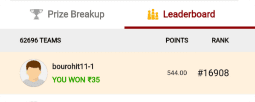 Fantasy Cricket Tips
Fantasy cricket tests your knowledge of the sport, decision-making ability, and analytical skills. Knowing a few simple tricks can be the key to winning fantasy cricket games. Take a look at our exclusive fantasy cricket tips and tricks below to ace fantasy games.
Play only those matches that you have a fair amount of knowledge about.
Select only those players who are in the playing 11 from the two teams
Check pitch and weather report, ground's average score, players' past performances, etc.
Detailed player statistics on Howzat will help you with choosing the best possible players.
Maintain a perfect balance between form and potential while selecting a good fantasy team.
Joining multiple contests and creating multiple teams is a great trick to win online fantasy cricket games
Apart from skill, analysis and knowledge, trust your instincts or guts while selecting players.
Match predictions by experts can give you a good insight into upcoming cricket matches.
Remember the more you play, the better you get. Keep playing, and you will understand more of how fantasy cricket works.
Types of Contests in Fantasy Cricket
There are mainly four types of contests in fantasy cricket on Howzat:
Mega Leagues: Mega leagues have the biggest prize pool among all the contests for the match. These are guaranteed contests that will happen even if slots are not filled up 100%. Generally, there is only one mega league contest per match.
Legends Contests: Play with Indian cricket legend Irfan Pathan in these public contests and win exciting cash prizes.
Multiplier Contests: Small contests which give the 3x, 4x, 5x and 10x times prize money of your entry fees. Generally, the seats are very limited in these multiplier contests.
Practice Contests: Popularly known as free contests, these are for beginners who are new to fantasy cricket and want to get a better understanding of how fantasy cricket works. The winning participants are not eligible for any prize money, only practice coins.
Winning Money Playing Fantasy Cricket
Fantasy cricket is not just about picking random 11 or star players to score big points for you. In order to score more points than your opponents, your analytical skills and research will come into play. Look at past statistics of the players, pitch and weather reports to give you an edge.
After that, the important part is to choose the correct captain and vice-captain because they give you 2x and 1.5x points respectively. Also, look at how various bonus points are given out for certain actions in a match. For example: a direct hit run-out or 3 catches taken by a player.
Once the match is over, the results will be declared. If you are in the winning position on the contest leaderboard, you will win cash prizes. After that, withdraw your winnings with minimum ease.
How Much Can You Win in Fantasy Cricket?
Play fantasy cricket matches daily on Howzat and win big and exciting cash prizes. Hear from the previous winners, who have won ranging from thousands to lakhs on the Howzat fantasy app with their choice of team in the winning zone.
The first prize of mega leagues usually ranges between Rs. 1 lakh to Rs. 15 lakhs, depending on the type and popularity of the match. Usually, Team India matches have a bigger prize pool and first prize amount.
Fantasy Cricket News and Upcoming Tournaments
Play exciting fantasy cricket matches in upcoming tournaments like the Asia Cup 2023 , India - Australia ODI series, England - New Zealand ODI and T20 series, Caribbean T20 League 2023 and others. Apart from these, there are other tournaments and leagues where you can create your fantasy team and take part.
Tips/Do's and Don'ts While Playing Fantasy Cricket
Playing fantasy cricket is pretty simple but a game of skill as well. You need to have a fair amount of knowledge about the sport and have strong analytical skills to win cash contests. Let's look at the key do's and don'ts of playing fantasy cricket.
| Do's of playing fantasy cricket | Don'ts of playing fantasy cricket |
| --- | --- |
| Keep track of the toss | Do not play every match |
| Select only from playing 11 of two teams | Do not invest heavily in only one match |
| Do solid research before choosing players for your team | Do not make the mistake of picking only popular players |
| Be patient and keep playing for long-term rewards | Do not forget to read about the pitch conditions |
Play Popular Fantasy Cricket Tournaments on Howzat
You can create fantasy teams in various cricket tournaments and leagues around the world. Here are some of the popular fantasy cricket tournaments to make your team on Howzat.
ODI Cricket World Cup 2023
■ Started in 1975, the ODI Cricket World Cup is the international championship of ODI Cricket. Played every 4 years, all the major cricket nations participate in the tournament. Australia is the most successful team in the ODI World Cup history with 5 titles. Make your fantasy teams in the 2023 ODI World Cup on Howzat and be part of the fun.
History of Fantasy Cricket in India
India is a cricket crazy nation and the rise of the fantasy sports and fantasy cricket industry in India has been a similar story. Fantasy cricket started gaining popularity in the last 3-4 years and the industry as a whole expected to be worth more than $3.7 billion by the end of 2024. Which means that almost 1 in 6 Indians could be playing at least one fantasy sport by the time 2024 ends. The Indian sporting landscape looks very different nowadays with the ever-growing fantasy cricket space.
Fantasy Cricket: FAQs