Fantasy Football
We are a nation of sports lovers. In recent years, fantasy football leagues have gained popularity exponentially, thanks to the increasing broadcast of different football leagues/matches across the world. Football fan clubs are gaining popularity and being recognized by their respective football clubs. So, take your love for the game to the next level with fantasy football today.
1. What is Fantasy Football?
2. Why To Play Fantasy Football?
3. How to Play Fantasy Football on Howzat?
4. Why Should You Play Fantasy Football on Howzat?
5. How to Select Players for a Fantasy Football Team?
6. How to Win Fantasy Football Games?
7. Fantasy Football Points System
8. Fantasy Football Tips and Tricks
9. Fantasy Football: FAQs
What is Fantasy Football?
Fantasy Football is an online fantasy sports game that involves selecting a virtual team of real players and scoring points on the basis of their performances in a real-world match. As the team selector in the fantasy football app, your aim is to select the best possible playing 11 from two opponent teams playing, score the highest points, and beat your competitors' teams.
Select the 11 players (within the provided credits) who you think can score the most points for your team with their performance in the various departments of the game, like goal-keeping, defending, midfield and striking. The selection of the best players, of course, depends on several factors as it's a real-match scenario.
Although some luck might increase your chances of winning, fantasy football is predominantly a game of skill that requires a good knowledge of the game and excellent analytical and predictive abilities. A good understanding of the game and a little bit of research will help you select the best players for a match and win the game.
Why To Play Fantasy Football?
What makes fantasy football so interesting? Why has it become so popular with football lovers? Here are some reasons for the ever-growing popularity of fantasy football today.
How to Play Fantasy Football on Howzat?
Getting started with fantasy football on Howzat is super easy. Follow these steps to get started:
1
Login
Sign up or log in to your account.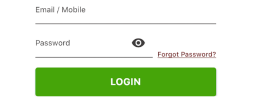 4
Choose your captain and vice-captain
Choose your captain (2x points) and vice-captain (1.5x points) to earn extra points.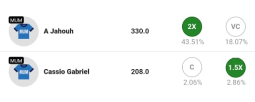 2
Select a Match
Choose a match you would like to play.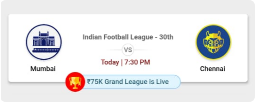 5
Choose a Contest
Choose from a wide variety of contests available.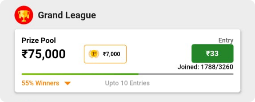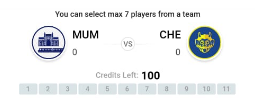 6
Track Your Score and Winnings
Keep check of your score on the leaderboard. Once the match completes check your WINNINGS!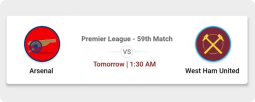 Why Should You Play Fantasy Football on Howzat?
So what makes Howzat the best app to play fantasy football on? Here are some Howzat features you will really love:
Quick Sign-up: Simply download the Howzat fantasy app, sign up using your Google or Facebook account, or create a new account and start playing.
User-friendly Interface: Get the best experience with our user-friendly interface. Navigate through all the options smoothly and play with great ease.
Extensive Game Lobby: Howzat has an extensive game lobby with upcoming matches, ongoing contests, and much more. Choose your favorite sports league/tournament and join a match.
Dedicated Blog: We have a dedicated Howzat Blog section, where we regularly post fantasy football tips, sports news, and game analysis by experts.
Unique Scoring System: Howzat has a unique fantasy scoring system that multiplies the fun and your excitement in the game. Do take a look at our scoring system before joining a contest.
Safe and Secure: Howzat is 100% safe and secure. You can safely deposit money into your Howzat account and easily withdraw your cash winnings to your bank account.
Playing with Real Players: Howzat has only real players and no bots. We provide a real-time experience to all our 10 million+ users.
Lucrative Bonuses and Offers: Lots of attractive bonuses and rewards are up for grabs on Howzat. Make your first deposit and get up to a 200% bonus credited to your Howzat account! You also get cashback offers regularly.
Referral Bonus Program: Invite your friends to earn instant bonuses. Compete with them and bring more excitement to the game. Check out the complete referral program.
How to Select Players for a Fantasy Football Team?
Fantasy football requires you to create a team of 11 players, including a goal-keeper, defenders, midfielders, and strikers.
Maximum 1 goalkeeper
Minimum 3 and maximum 5 defenders
Minimum 3 and maximum 5 midfielders
Minimum 1 and maximum 3 forwards
A maximum of 7 players are allowed from one team.
How to Win Fantasy Football Games?
Winning fantasy football games requires skill, patience, and persistence. The key to win is to make the most competitive team and the content/information play a significant role. A careful selection of players is crucial to creating a match-winning team.
HOWZAT as a platform, provides football fantasy predictions to leverage the players'/teams information and then make smart, informed decisions.You can leverage our dedicated blog section by reading the daily match predictions and understanding the players records, past performances, head to head results and much more.
Fantasy Football Points System
The scoring system in fantasy football works differently from fantasy cricket. For starters, the departments are completely different in the two sports and the way of playing is also different.
There are goals instead of runs scored, tackles/assists instead of wickets taken, clean sheets instead of catches/stumpings/run-outs, negative points for disciplinary cards, etc.
Here is how players score points in fantasy football:
Every successful tackle or assist earns positive points.
Every goal scored earns positive points.
Every clean sheet earns positive points.
Every penalty shot saved earns positive points.
Every goal conceded receives negative points.
There are two disciplinary cards in football: Red and Yellow cards. Getting these disciplinary cards receives negative points
For every Yellow Card received: -1 point.
For every Red Card received: -3 points.
Any event during the Extra Time (in-game; not penalty shootout ) will receive points.
Fantasy Football Tips and Tricks
Fantasy Football games test your knowledge of the sport, decision-making ability, and analytical skills. Knowing a few simple tips and tricks is the key to winning these games. Take a look at our exclusive tips and tricks to ace fantasy football.
Check out Players' Form
You need to stay informed about the players' performance and form in the recent games. It is highly likely that you will go for players with a good career record, but they might not be in form at the moment. So to play safe, you should pick players who play well regularly and have performed well in the last 5-10 games. That will maximize your chances of winning the game.
Read Match Predictions
Match predictions made by experts can give you a good insight into the upcoming matches. Many experts make predictions about matches from a few days to hours before the matches start. You can go through them to make informed decisions while selecting/changing your team.
Invest Smartly
Generally strikers are high-priced players in fantasy football games, but there is no guarantee that every striker will perform well. So it is important to invest wisely in players. There are some players who perform well regularly but are available at lower credits. You can go for such players and select the best team.
Choose the Captain and the Vice Captain Wisely
In fantasy football, the captain and the vice captain may be the deciding factor in a game. The captain gets 2X points and the vice captain gets 1.5X points as other players for the same performance. So it is important to consider your options carefully and select the best players as the captain and the vice captain of your team.

Pro Tip: Select top players who score goals regularly or defenders who can score points in attacks.
Select Set-piece Specialists
In football, set-pieces are corners, penalties, and free-kicks. These situations often give you a chance to score goals and points. You can pick players who are experts in set-piece moves.
Pick the Best Goalkeeper
You can have only one goalkeeper on your fantasy football team. So it is crucial to pick the best one in the lot. You can start by doing your research about the top goalkeepers on the teams. Take a look at their track record and form to make an informed decision.
Keep An Eye On Substitute Players
Unlike cricket, substitutes play an important role in the game of football. They are used very tactically by the coaches and are fully involved in the game. Three to five players are named substitutes in every football match. They can score goals, provide assists and crucial tackles during the game.
Avoid Injury Prone Players
Do not include any player who is injury prone or someone who is coming in straight after recovering from an injury. They might not take full part in the game and give you maximum points.
Maintain a Balance in the Team
Select a balanced team after considering players' positions and the credit points they are worth. There have been many instances when teams with low-rank players have performed exceptionally well. Do not select an unreasonably high number of players for the same position. It is always helpful to maintain a balance in your team.
Trust Your Instincts
Apart from skill, analysis and knowledge of the game, you have to trust your instinct and gut feeling while selecting players on your team. A player may not have performed in the past few matches or and may not be a popular pick for the upcoming match, but if he/she is part of your team and performs, you will have a higher chance of winning the contest.
Also Read: All the tips and tricks to win fantasy cricket matches
Fantasy Football: FAQs