Fantasy Kabaddi Rules
Kabaddi is a contact team sport that is played between two teams of 7 players (playing in different kabaddi kits). One of the basic rules of kabaddi is for an offense player, referred to as a "raider," to go into the opposing team's half, touch out as many of their defenders as possible, and return to their own half in a single breath. Points are scored for each player touched by the raider, while the opposing team earns points for stopping the raider.
Fantasy Kabaddi
Having popularised the kabaddi game on a global stage, it is only natural to take it to the fantasy world too. So, whether it is Indian Kabaddi league matches or international tournaments like the Kabaddi World Cup, the fantasy kabaddi brings you close to the action. With regular practice and updated information, you can become a pro at fantasy kabaddi and win cash contests. Fantasy kabaddi rules and regulations are slightly different from the original game.
How to Play Fantasy Kabaddi Games on Howzat
Getting started with a kabaddi fantasy league on Howzat is super easy. Follow these easy steps to get started:
1
Login
Sign up or log in to your account.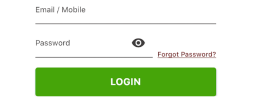 4
Choose your captain and vice-captain
Choose your captain (2x points) and vice-captain (1.5x points) to earn extra points.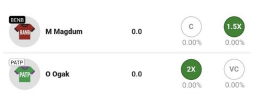 2
Select a Match
Choose a match you would like to play.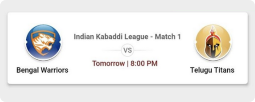 5
Choose a Contest
Choose from a wide variety of contests available.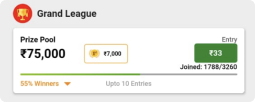 3
Create a Team
Create your team by selecting players from the two teams using only 100 credit points.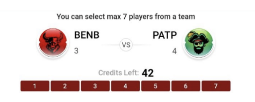 6
Track Your Score and Winnings
Keep a check of your score on the leaderboard and track your winnings!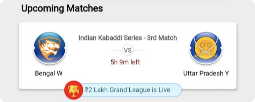 Rules and Regulations to Select Players for a Fantasy Kabaddi Team
Once you have logged in on a fantasy kabaddi league app, the next step is to create a kabaddi dream team. Here are a few guidelines that will help you set up a proper fantasy kabaddi team.
As a player, you get 100 credit points to select the team.
Select players from the playing 7s of both the teams. Edit your team after the line-up is announced (replace any player not playing in the match).
A maximum of 5 players can be selected from one team.
The performance of your players in the actual kabaddi match will decide how your fantasy kabaddi team scores.
You can select from 3 categories of players, i.e. raiders, all-rounders and defenders. You can have any number of combinations from the table below, within the minimum and maximum criteria.
Category
Raider
All-Rounder
Defender
Kabaddi League Points System on Howzat
One of the important kabaddi rules is to understand how the points system works for fantasy kabaddi on Howzat, the best kabaddi fantasy app.
Raiding Points
Successful Raid Touch Point
Raid Bonus
Super Raid
Super 10
Unsuccessful Raid
Getting All Out (Playing 7)
8
2
4
2
-2
-4
Defending Points
Successful Tackle
Super Tackle
High
Pushing All Out (Playing 7)
Unsuccessful Tackle
20
8
10
8
-1
Points for Cards
Green Card
Yellow Card
Red Card
-2
-4
-6
Other Points
Starting 7
Substitute Player
Captain
Vice Captain
8
2
2X
1.5X
Raiding Points
Successful Raid Touch Point
8
Raid Bonus
2
Super Raid
4
Super 10
4
Unsuccessful Raid
-2
Getting All Out (Playing 7)
-4
Defending Points
Successful Tackle
20
Super Tackle
8
High
10
Pushing All Out (Playing 7)
8
Unsuccessful Tackle
-1
Points for Cards
Green Card
-2
Yellow Card
-4
Red Card
-6
Other Points
Starting 7
8
Substitute Player
2
Captain
2X
Vice Captain
1.5X
Important Fantasy Kabaddi Rules
Points for a super tackle will be added to the points of a successful tackle (20 points for successful tackle + 8 points for super tackle).
Points for a raid touch will be given to the raider for every opponent he gets out or puts out.
Points for pushing all out will only be considered for players who are part of the playing 7.
Negative points for getting all out will only be considered for players who are part of the playing 7.
If a player receives any card, he will continue to get negative points( for Getting All Out) and positive points( for Pushing All out).
Points deducted for red cards include point deduction for yellow card and green card. Similarly, points deducted for yellow cards include deductions for green cards.
If a green/yellow/red card is awarded to a team/support staff, it will not have any impact on the players' individual points.
Any event during extra time will be considered for awarding points.
Any event during Golden Raids will not be considered for awarding points.
Check out the points scoring system on Howzat.
How to Win Kabaddi League Matches on Howzat
Winning in a fantasy kabaddi league requires knowledge of kabaddi skills, patience and persistence. A careful selection of players is crucial to creating a match-winning team. Fantasy kabaddi games require you to create a team of 7 players, including raiders, defenders and all-rounders.
You can go through our dedicated blog page to read daily match predictions and understand the past performances of teams and players, head-to-head results, and much more.
Play Kabaddi Online and Win Daily Cash Prizes
Fantasy kabaddi is not just about luck or punting and picking a star player to score big for you. In order to score more points than your opponents, you need to read the game well, look at past statistics of the players and then find those who will make the difference and give you an edge.
You start by picking players from the various categories. After that, the important part is to choose the correct captain and vice captain because they give you 2x and 1.5x points, respectively, for the same performance as other players.
Your analytical skills and research will come into play in figuring out that one player who can step up to give you more points over your opponents. Always look at how points are given out for certain actions, for example, a super tackle or a successful raid.
Your fantasy team will earn points over the course of a game and you can keep tabs on the leaderboard throughout to see what your rank is. Once the match is over, the results will be declared and if you are in one or more of the winning positions, you will win cash prizes. You can withdraw your cash winnings with ease.
Fantasy Kabaddi: FAQs
What is Kabaddi?
Kabaddi is a fairly popular sport in India that gained recognition as a competitive sport in the 20th century. It is the state game of many Indian states such as Punjab, Uttar Pradesh, Bihar, Haryana, Maharashtra, Odisha, Karnataka, Kerala, Tamil Nadu, Telangana and Andhra Pradesh.
Which is the best app to play kabaddi fantasy leagues?
Howzat is one of the most innovative and fastest growing apps when it comes to kabaddi fantasy leagues. Howzat's user-friendly interface provides you with a seamless gaming experience. It has a simple and easy-to-navigate dashboard.
Is playing fantasy kabaddi in India legal and safe?
Playing kabaddi on Howzat is absolutely legal and safe. The Hon' Supreme Court of India has ruled that playing a game of skill like fantasy kabaddi for real money is a legal business activity, not gambling or betting. So you can play both free and cash fantasy contests in India on Howzat without worrying about the legality of the game. Please note that people aged under 18 are not eligible to play fantasy games on Howzat.
What are the different types of kabaddi?
There are two major forms of kabaddi: "Punjabi kabaddi," also referred to as "circle style", and is played on a circular field outdoors. The second one is the "standard style," and played on rectangular indoor courts. This form is used in all the major professional leagues.
Upcoming Match Predictions and Other Related Articles