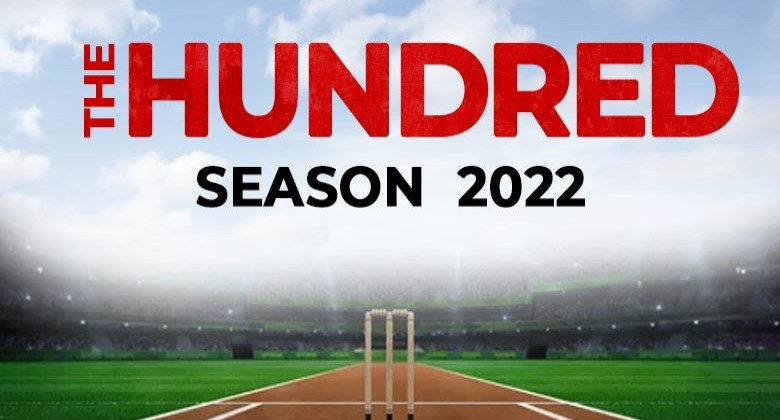 The Hundred 2022: Schedule, Teams, Format, Live Streaming
After the success of the first season in 2021, THE HUNDRED is back. It is a unique 100-ball cricket tournament involving 8 men's and women's professional teams located in major cities across England and Wales. Southern Men and Oval Women were the inaugural season winners.
The men's tournament is scheduled to run from 3rd August to 3rd September 2022, while the women's tournament will start a week later (because of women players' involvement in Commonwealth Games Cricket Tournament 2022) on 11th August 2022 and end on 3rd September. Most of the matches will take place as consecutive double-headers at the same venue on the same day.
The Hundred Cricket Format
In total, there will be 56 matches

(32 men's and 24 women's)

in the group stage

of the tournament.

Each men's team will play four matches at home and four matches away. It will include one match against every other team and a second match against the nearest regional rivals.

The women's team

will play only six matches in the group stage, meaning some sides will not meet each other in the competition.

Once the league phase is completed, the top three teams will then compete in the play-offs to decide the winner.

The 2nd-placed and 3rd-placed teams will meet in the Eliminator, which will be played at the Rose Bowl in Southampton.

The winner of the Eliminator will then meet the 1st-placed team in the final at Lord's and compete to be the crowned champions.
The Hundred Men and Women Cricket Teams
All the 8 teams that competed in the 2021 season will return for a second year in 2022. Each franchise represents a large area of England and Wales.
| | | | |
| --- | --- | --- | --- |
| Team | Home Ground | Men's Captain | Women's Captain |
| Manchester | Old Trafford, Manchester | J. Buttler | K. Cross |
| Northern | Headingley, Leeds | F. du Plessis | H. Armitage |
| Birmingham | Edgbaston, Birmingham | M. Ali | S. Devine |
| Trent | Trent Bridge, Nottingham | L. Gregory | N. Sciver |
| Welsh | Sophia Gardens, Cardiff | J. Cobb | T. Beaumont |
| London | Lord's, London | E. Morgan | C. Dean |
| Oval | Oval, London | S. Billings | D. van Niekerk |
| Southern | Rose Bowl, Southampton | J. Vince | A. Shrubsole |
The Hundred Cricket Schedule 2022

The Hundred Cricket Rules
Each team will play only 100 balls and the team that scores the most runs at the end of the match wins.

A bowler can bowl a minimum of 5 or a maximum of 10 consecutive balls. Each bowler can deliver a maximum of 20 balls per game.

There will be a change of ends every 10 balls.

A powerplay of 25-balls will be at the start of the innings for each team. Only two fielders are allowed outside of the 30-yard circle during the powerplay.

The bowling side can take a strategic timeout of up to two and a half minutes. The coach can walk out and discuss tactics with the players during the match.

If a match ends in a tie, both teams will be rewarded one point each. If the game ends in a tie during the playoff matches, both teams will play a Super Five, similar to a Super Over in T20 cricket.
The Hundred Cricket 2022 Men's Full Team Squads
Teams were allowed to retain up to ten of the previous season's players. In addition, all England centrally contracted players were retained by their respective franchises.

A player draft took place to fill the remaining squad players, with teams taking turns to sign the available players. Each side was given a 'Right to Match', allowing them to retain one further player from their 2021 squad.

Following the draft, teams had two wildcard picks before the tournament. It allows one domestic player and one overseas player to be selected.
Birmingham
M. Ali (C), M. Hammond, B. Howell, L. Livingstone, W. Smeed, D. Mousley, C. Benjamin, H. Brookes, J. Leach, M. Wade, Kane Richardson, T. Helm, G. van Buuren, I. Tahir, A. Milne
London
E. Morgan (C), Z. Crawley, G. Maxwell, M. Crane, D. Lawrence, R. Bopara, K. Pollard, L. Dawson, N. Ellis, D. Bell-Drummond, B. McDermott, A. Rossington, T. Roland-Jones, J. Thompson, J. Smith, B. Wheal, C. Wood, J. Inglis
Manchester
J. Buttler (C), P.Salt, C. Ackermann, F. Klaasen, C.Harrison, A. Russell, L. Evans, W. Hasaranga, T. Hartley, S. Abbott, T. Lammonby, R. Gleeson, W. Madsen, M. Stanley, A. Turner, M. Parkinson, P.Walter
Northern
F. du Plessis (C), D. Bravo, H. Brook, B. Carse, J. Simpson, A. Lyth, C. Parkinson, A. Hose, R. van der Merwe, J. Clark, M. Pepper, D. Wiese, A. Rashid, D. Willey, M. Potts, B. Raine, W. Riaz
Oval
S. Billings (C), D. Briggs, H. Cartwright, P. Brown, J. Cox, S. Curran, T. Curran, M. Hasnain, Jack Haynes, W. Jacks, M. Milnes, J. Leaning, S.Narine, J. Roy, N. Sowter, R. Topley, R. Rossouw
Southern
J. Vince (C), R. Ahmed, F. Allen, T. David, A. Davies, Q. de Kock, G. Garton, M. Hogan, C. Jordan, J. Lintott, T. Mills, D. Moriarty, C. Overton, R. Whiteley, M. Stoinis, P. Stirling, J. Weatherley, J. Fuller
Trent
L. Gregory (C), M. Carter, S. Cook, I. Cockbain, M. de Lange, L. Fletcher, R. Khan, A. Hales, T. Kohler-Cadmore, D. Malan, B. Mike, T. Moores, S. Mullaney, J. Root, C. Munro, L. Wood, S. Patel, D. Sams, T. Shamsi
Welsh
J. Cobb (C), J. Bairstow, N. Ahmad, J. Ball, T. Banton, J. Bethell, J. Clarke, B. Duckett, O. Pope, L. du Plooy, S. Hain, R. Higgins, A. Zampa, D.Miller, D. Payne, N. Shah, G. Scrimshaw, M. Critchley
The Hundred Women's Cricket Schedule 2022
The Hundred Cricket 2022 Live Streaming and Live Telecast in India
Fancode is the official broadcaster for all the fantasy cricket matches of the Hundred 2022 tournament in India. Hence, the Hundred cricket 2022 live streaming will be available on the Fancode website and the Fancode app. You can also check the Hundred matches live score on the Howzat fantasy app.