Kolkata vs Rajasthan: The Past Champions of the Indian T20 League
Matches between Kolkata and Rajasthan in the Indian T20 League are not as glamorous and hyped about as some others but they have had pretty close contests and the head-to-head advantage has swayed from one side to the other.
Rajasthan have found it tough to win at the Eden Gardens, Kolkata's home venue. They have won just two out of nine games at the iconic stadium. Can Eoin Morgan and Sanju Samson take their respective teams to the glory days? We will get the answer soon.
Kolkata Team vs Rajasthan Team: Head to Head Record
All matches between these two teams have been closely fought over the years. Kolkata had the upper hand in recent editions, winning 6 of the last 8 matches played.
Matches: 23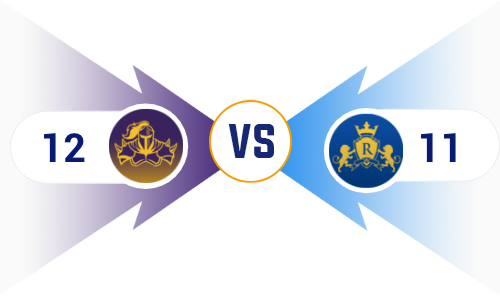 Kolkata Team vs Rajasthan Team: Head to Head History
Rajasthan and Kolkata met once in the 2018 eliminator match, which Kolkata won.
Year
2008
2009
2010
2011
2012
2013
2014
2015
2018
2019
2020
2021

Kolkata Won

0
1
1
2
1
1
0
0
3
1
2
0

Rajasthan Won

2
1
1
0
1
1
2
1
0
1
0
1

Total
3
2
2
2
2
2
2
1*
3
2
2
1
* One match was abandoned, in 2015 at Kolkata
Kolkata vs Rajasthan: Indian T20 League 2021 Schedule
Sr. No
Match
Date
Time
Location/Stadium

18
Rajasthan vs Kolkata
Saturday, 24th April
7:30 PM
Mumbai

54
Kolkata vs Rajasthan
Thursday, 7th October
7:30 PM
Sharjah
Team Kolkata and Rajasthan Full Squad for Indian T20 League 2021
Team Kolkata Full Squad
Team Rajasthan Full Squad
The big-hitting Andre Russell was the exception in a batting line-up that struggled for fluency in the first leg of the tournament this year. Pat Cummins (now replaced by Tim Southee) contributed with 9 wickets and quick runs and will be badly missed in the second phase of the league. Here are a few key players who can play a crucial role for Team Kolkata in the 2021 season:
After a dismal performance last year, Team Rajasthan will play the 2021 season without the English pair of Jos Buttler and Ben Stokes. They have roped in Evin Lewis and Oshane Thomas as replacements respectively. South Africa's Tabraiz Shamsi and Kiwi batter Glenn Philipps have also been brought in as replacements. Here are a few key players who Rajasthan will rely heavily on:
Kolkata vs Rajasthan: Top Performers & Statistics
Top Performers with Bat
Top Performers with Ball
Kolkata vs Rajasthan Most Runs (2008-2021)

Ajinkya Rahane (Rajasthan)
338 runs

Shane Watson (Rajasthan)
304 runs

Yusuf Pathan (Rajasthan)
292 runs

Dinesh Kathik (Kolkata)
258 runs

Kolkata vs Rajasthan: Highest Scores (2008-2021)

Shane Watson (Rajasthan)
104* runs (2015)

Dinesh Kathik (Kolkata)
97* runs (2019)

Jacques Kallis (Kolkata)
80* runs (2011)

Gautam Gambhir (Kolkata)
75 runs (2011)
Rajasthan vs Kolkata Most Wickets (2008-2021)

Sunil Narine (Kolkata)
10 wickets

Shakib Al Hasan (Kolkata)
9 wickets

Siddharth Trivedi (Rajasthan)
9 wickets

Chris Morris (Rajasthan)
8 wickets

Rajasthan vs Kolkata: Best Bowling Figures (2008-2021)

Kuldeep Yadav (Kolkata)
4/20 (2018)

Chris Morris (Rajasthan)
4/23 (2021)

Pat Cummins (Kolkata)
4/34 (2020)

James Faulkner (Rajasthan)
3/11 (2014)
How to Play Indian T20 Fantasy Cricket and Win Real Cash
With both teams including match winners, it is an exciting game whenever Kolkata and Rajasthan go head-to-head. The Kolkata vs Rajasthan stats provided here will help you select players who could be expected to get you the highest fantasy points in the upcoming clash.
You can also check out our official blog for all the latest updates and match predictions. If you're just starting out in the world of fantasy cricket, learn how to play fantasy cricket and fantasy game tips and tricks on Howzat to win big in the Indian Fantasy League. Download the Howzat fantasy cricket app now and enjoy gaming!
Teams Participating in the Indian T20 League 2021
FAQs: Kolkata vs Rajasthan
How many times have Kolkata and Rajasthan won the title in the Indian T20 League history?
Kolkata have played 2 Indian T20 League finals and won both. They won their maiden title in 2012 and their second title in 2014. Rajasthan won the inaugural season in 2008.
How many players have Kolkata and Rajasthan bought in the Indian T20 League 2021 auction?
Kolkata bought 8 players, with Shakib Al-Hasan being their most expensive selection in the auction for a price of ₹3.2 crore. Rajasthan picked a total of 8 players, with Chris Morris being their most expensive pick, for a price of ₹16.25 crore.
What is the longest win streak in the head-to-head matches between Kolkata and Rajasthan?
Rajasthan had the longest win streak of 3 matches against Kolkata from 2008 to 2009. Kolkata's longest streak is 4 wins from 2018 to 2029.
Which team's missing players will impact their overall performance: Kolkata or Rajasthan?
Ben Stokes and Jos Buttler are match winners and will be missed badly by Rajasthan. Evin Lewis and Glenn Philipps have been brought in as replacements. Kolkata's pace leader Pat Cummins will miss the UAE leg, leaving the team bowling attack relatively inexperienced.
Related Articles (Match Predictions - Dream Team, Pitch report, Weather Conditions, etc.)