Chennai vs Punjab: Seasoned Winners vs the Chokers of the Indian T20 League
This may seem like a predictable matchup on paper, but it is definitely not one-sided. Chennai have the upper hand in terms of total wins, titles and the highest score. Punjab are yet to win their first Indian T20 League title, while Chennai have won the titles three times already.
The previous scorecards reveal the close competition both teams have had when they went head to head. Chennai and Punjab missed the play-offs in the 2020 edition and will be looking to rectify that this year. It is going to be a thrilling game when these two teams clash.
Chennai Team vs Punjab Team: Head to Head Record
Chennai have dominated the rivalry in patches with some entertaining matches taking place over the years. In the recent encounters, Chennai have won 5 of the last 6 matches.
One match in the Champions League T20 2014 was won by Chennai.
Matches: 25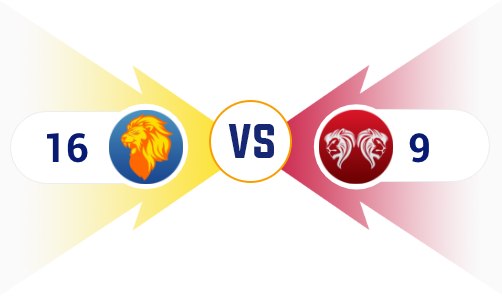 Chennai Team vs Punjab Team: Head to Head History
Chennai and Punjab have gone head-to-head in the play-offs two times: semi-final in 2008 and Qualifier 2 in 2014. Chennai won in 2008, while Punjab in 2014.
Year
2008
2009
2010
2011
2012
2013
2014
2015
2018
2019
2020
2021

Chennai Won

3
2
1
1
0
2
1
2
1
1
2
1

Punjab Won

0
0
1
0
2
0
3
0
1
1
0
0

Total
3
2
2
1
2
2
4
2
2
2
2
1
Chennai vs Punjab: Indian T20 League 2021 Schedule
Sr. No
Match
Date
Time
Location/Stadium

8
Punjab vs Chennai
Friday, 16th April
7:30 PM
Mumbai

53
Chennai vs Punjab
Thursday, 7th October
3.30 PM
Dubai
Team Chennai and Punjab Full Squad for Indian T20 League 2021
Team Chennai Squad
Team Punjab Squad
Josh Hazlewood's participation boosts Chennai's pace stocks hugely, but the onus will still be on the spin of Ravindra Jadeja and Moeen Ali, with veteran Imran Tahir being a wild card option. They need more runs from their Indian stalwarts like MS Dhoni and Suresh Raina. Here are some key players that can play an important role for the Chennai team in the 2021 season:
KL Rahul and Mayank Agarwal have led the way with the bat, and Punjab will hope for a couple of explosive outings from Chris Gayle too. Ravi Bishnoi and Arshdeep Singh have done well with the ball, but much more is expected from experienced players like Mohammed Shami and Chris Jordan. Adil Rashid and Nathan Ellis have replaced the Aussie duo of Jhye Richardson and Riley Meredith. Here are some players who can play a key role for Team Punjab:
Chennai vs Punjab: Top Performers & Statistics
Top Performers with Bat
Top Performers with Ball
Chennai vs Punjab: Most Runs (2008-2021)

Suresh Raina (Chennai)
719 runs

MS Dhoni (Chennai)
525 runs

Faf du Plessis (Chennai)
517 runs

Shaun Marsh (Punjab)
296 runs

David Miller (Punjab)
275 runs

Chennai vs Punjab: Highest Scores (2008-2021)

Virender Sehwag (Punjab)
122 runs (2014)

Paul Valthaty (Punjab)
120* runs (2011)

Michael Hussey (Chennai)
116* runs (2008)

Suresh Raina (Chennai)
100 runs (2013)

Faf du Plessis (Chennai)
96* runs (2019)
Chennai vs Punjab: Most Wickets (2008-2021)

Ravi Ashwin (Chennai)
18 wickets

Dwayne Bravo (Chennai)
15 wickets

Albie Morkel (Chennai)
12 wickets

Parvinder Awana (Punjab)
11 wickets

Mohit Sharma (Chennai)
10 wickets

Chennai vs Punjab: Best Bowling Figures (2008-2021)

Lakshmipathy Balaji (Chennai)
5/24 (2008)

Lungi Ngidi (Chennai)
4/10 (2018)

Deepak Chahar (Chennai)
4/13 (2021)

Parvinder Awana (Punjab)
4/30 (2014)

Mutthiah Muralitharan (Chennai)
3/16 (2010)
How to Play Indian T20 Fantasy Cricket and Win Real Cash
With both teams studded with match winners, it is worth watching whenever Punjab and Chennai lock horns with each other. The Chennai vs Punjab stats provided here will help you select players who could be expected to fetch you the highest fantasy points in the upcoming clash.
You can also check out our official blog for all the latest updates and match predictions. If you're just starting out, learn how to play fantasy cricket and fantasy game tips & tricks on Howzat to win big in the Indian Fantasy League. Download the Howzat fantasy cricket app now and enjoy gaming!
Teams Participating in the Indian T20 League 2021
FAQs: Chennai vs Punjab
How many times have Punjab and Chennai won the Indian T20 League?
Punjab have never won the Indian T20 League title. Punjab lost their only final to Kolkata in 2014. On the other hand, Chennai have won 3 Indian T20 League titles (2010, 2011 and 2018) and played 8 finals.
What happened the last time Punjab and Chennai met at Dubai in the Indian T20 League?
Punjab batted first and put up a decent score of 178 runs in their 20 overs. Skipper KL Rahul was the top scorer in the innings with 63 runs. Chennai chased the total down in 18 overs with an unbeaten opening partnership between Shane Wastson (83 runs) and Faf du Plessis (87 runs).
What is the track record of Chennai and Punjab in the UAE?
Both teams have an almost equal record in the UAE. Punjab won the head-to-head contest in 2014 while Chennai won both the encounters in 2020.
Record at Sharjah
Chennai
Punjab
Which players scored the most runs for Punjab and Chennai in the first leg of the 2021 league?
For Punjab, KL Rahul scored 331 runs in seven matches, while Faf du Plessis is the top run scorer for Chennai with 320 runs in the same number of matches.
Upcoming Match Predictions and Other Related Articles