Punjab vs Rajasthan: The Bottom Dwellers of the Indian T20 League
After another year of disappointment in the tournament, Punjab have a lot to accomplish in the 2021 edition of the Indian T20 League. They emerged from the 2021 auction with some intelligent buys, keeping in mind their current set of players and requirements.
However, KL Rahul and his team need to figure out a way to solve their inability to remain consistent, which eventually cost them a place in the play-offs in 2018, 2019 and 2020 editions. All they needed was an additional win in their stride.
Rajasthan have a new captain in Sanju Samson leading the side in the 2021 edition. Their last play-off appearance was in 2018. The Men in Pink have strengthened their batting and bowling departments, and are hopeful of reaching the play-offs and beyond this season.
Punjab Team vs Rajasthan Team: Head to Head Record
All matches between these two teams have been closely fought over the years. Rajasthan won both their matches against Punjab in the 2020 edition of the Indian T20 League.
Matches: 22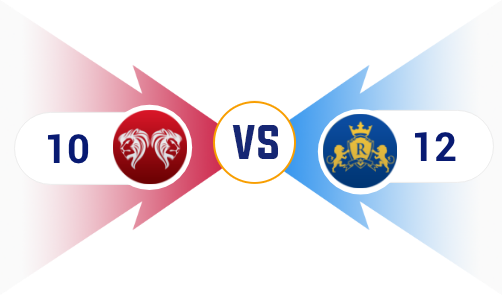 Punjab Team vs Rajasthan Team: Head to Head History
Rajasthan and Punjab have never gone head to head in either play-offs or finals.
Year
2008
2009
2010
2011
2012
2013
2014
2015
2018
2019
2020
2021

Punjab Won

1
1
0
1
0
0
2
1
1
2
0
1

Rajasthan Won

1
1
2
0
2
2
0
1
1
0
2
0

Total
2
2
2
1
2
2
2
2
2
2
2
1
Punjab vs Rajasthan : Indian T20 League 2021 Schedule
Sr. No
Match
Date
Time
Location/Stadium

4
Rajasthan vs Punjab
Monday, 12th April
7:30 PM
Mumbai

32
Punjab vs Rajasthan
Tuesday, 21st September
7:30 PM
Dubai
Team Punjab and Rajasthan Full Squad for Indian T20 League 2021
Team Punjab Squad
Team Rajasthan Squad
KL Rahul and Mayank Agarwal have led the way with the bat, and Punjab will hope for a couple of explosive outings from Chris Gayle. Ravi Bishnoi and Arshdeep Singh have done well with the ball, but much more is expected from experienced players like Mohammed Shami and Chris Jordan. Adil Rashid and Nathan Ellis have replaced the Aussie duo of Jhye Richardson and Riley Meredith. Here are some players who can play a key role for Team Punjab:
After a dismal performance last year, Team Rajasthan will play the 2021 season without the English pair of Jos Buttler and Ben Stokes. They have roped in Evin Lewis and Oshane Thomas as replacements, respectively. South Africa's Tabraiz Shamsi and Kiwi batter Glenn Philipps are also bought in as replacements. Here are a few key players who Rajasthan will rely heavily on:
Punjab vs Rajasthan: Top Performers & Statistics
Top Performers with Bat
Top Performers with Ball
Punjab vs Rajasthan Most Runs (2008-2021)

Sanju Samson (Rajasthan)
525 runs

KL Rahul (Punjab)
441 runs

Shaun Marsh (Punjab)
409 runs

Ajinkya Rahane (Rajasthan)
373 runs

Shane Watson (Rajasthan)
316 runs

Punjab vs Rajasthan: Highest Scores (2008-2021)

Sanju Samson (Rajasthan)
119 runs (2021)

Shaun Marsh (Punjab)
115 runs (2008)

Mayank Aggarwal (Punjab)
106 runs (2020)

Chris Gayle (Punjab)
99 runs (2020)

Ajinkya Rahane (Rajasthan)
98 runs (2012)
Rajasthan vs Punjab Most Wickets (2008-2021)

Piyush Chawla (Punjab)
14 wickets

Siddharth Trivedi (Rajasthan)
11 wickets

James Faulkner (Punjab)
10 wickets

Kevon Cooper (Rajasthan)
9 wickets

Shaun Tait (Rajasthan)
8 wickets

Rajasthan vs Punjab: Best Bowling Figures (2008-2021)

Kevon Cooper (Rajasthan)
4/18 (2012)

Angelo Matthwes (Kolkata)
4/16 (2015)

Andrey Tye (Punjab)
4/34 (2018)

Amit Singh (Rajasthan)
3/9 (2009)

Jofra Archer (Rajasthan )
3/15 (2019)
How to Play Indian T20 Fantasy Cricket and Win Real Cash
With both teams including match winners, it is a close fight whenever Punjab and Rajasthan take on each other. The Punjab vs Rajasthan stats provided here will help you select players who could be expected to get you the highest fantasy points in the upcoming clash.
You can also check out our official blog for all the latest updates and match predictions. If you're just starting out in the world of fantasy cricket, learn how to play fantasy cricket and fantasy game tips and tricks on Howzat to win big in the Indian Fantasy League. Download the Howzat fantasy cricket app now and enjoy gaming!
Teams Participating in the Indian T20 League 2021
FAQs:Punjab vs Rajasthan
How many times have Punjab and Rajasthan won the title in the Indian T20 League history?
Punjab have never won the Indian T20 League title. They lost their only final to Kolkata in 2012. Rajasthan won the inaugural season in 2008 but have not reached the final since then.
How many players have Punjab and Rajasthan bought in the Indian T20 League 2021 auction?
Punjab spent cash on 9 players, with Jhye Richardson being their most expensive player at ₹14 crore. On the other hand, Rajasthan picked a total of 8 players, with Chris Morris being the most expensive pick for a price of ₹16.25 crore.
What is the track record of Punjab and Rajasthan at the Dubai International Stadium?
Punjab have played 8 matches at this venue and won 5 times. On the other hand, Team Rajasthan have a poor track record at this venue. They have played 7 matches at Dubai and emerged victorious only once.
Record at Dubai
Punjab
Rajasthan
Which players have scored the most runs for Punjab and Rajasthan in the first leg?
Both the captains have led the batting charts for their respective teams in the 2021 edition so far. Punjab's KL Rahul has scored 331 runs in 7 matches, while Sanju Samson has scored 277 in the same number of matches.
Upcoming Match Predictions and Other Related Articles